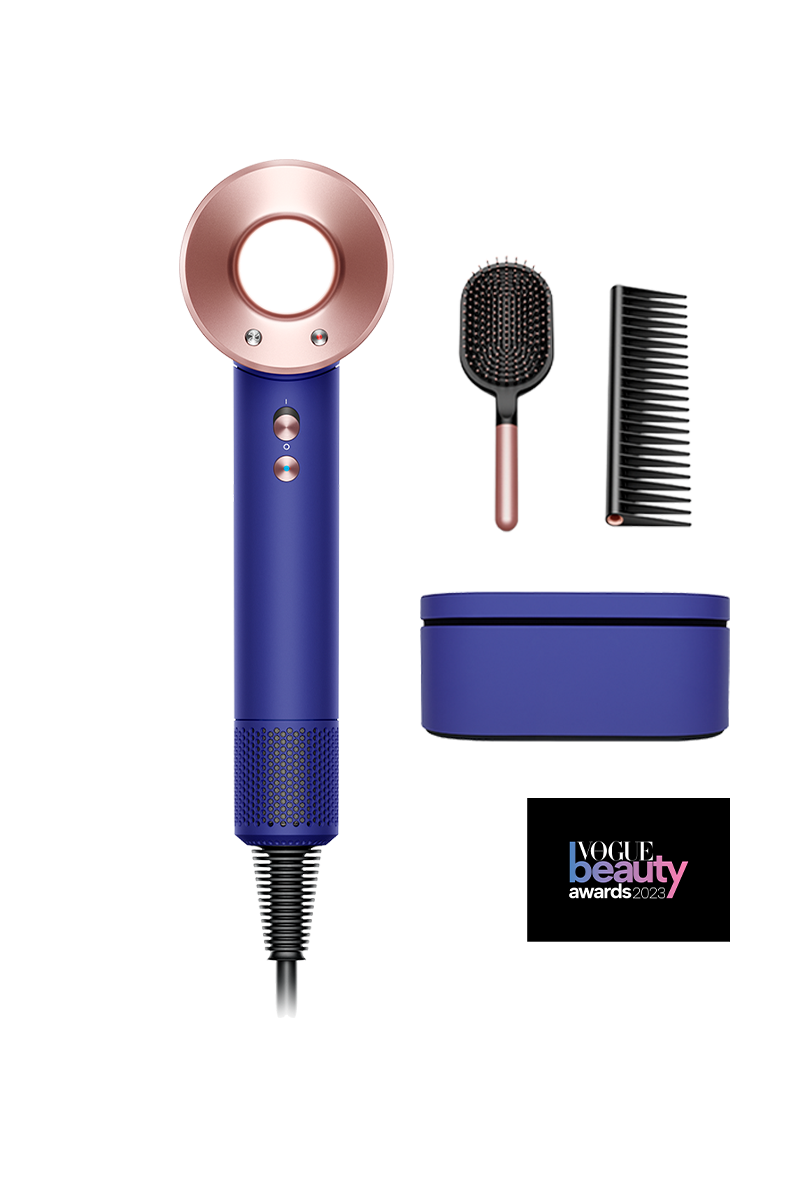 Unfortunately, this product is no longer available.
Special edition accessories
Dyson-designed Presentation case

Protect and neatly store your Supersonic™ hair dryer at home and on the move. The Presentation case has a removable lid, and is cushioned with soft fabric.

Dyson-designed Paddle brush and Detangling comb

For smoothing and detangling your hair before styling. The Paddle brush is designed for usage comfort with an ergonomic handle, air-cushion suspension and rounded bristles. The Detangling comb is engineered with wide, polished teeth to glide through wet and dry hair with minimal friction.
Vogue Beauty Awards 2023 – The Hair Styling Superstar

Styling guides
Watch our quick, step-by-step guides to achieving your ideal style.
Defined curls and waves

Create defined curls, and add volume and shine.

Everyday blow dry

Add natural volume and create flicks.

Smooth blowout

See how to smooth and add volume to long, straight hair.

Korean volumised style

Learn how to create a straight style with natural volume for men.

Textured with volume

See how to create a textured style for men.

Flyaway attachment

Learn how to use the Flyaway attachment to finish a style.
Styling attachments
Magnetic styling attachments for easy fitting and 360° rotation.
Flyaway attachment

The ideal finishing tool for sleek, straight styles. Hides flyaways under longer hair to give you a smooth, shiny finish.1 With just air.

Styling concentrator

The wider, thinner design3 of the re-engineered Styling concentrator creates a high-velocity blade of air that's perfect for styling. And because the air is focused, you can style one section at a time – without disturbing the rest.

Diffuser

Re-engineered to disperse air more evenly around your curls, the Diffuser simulates natural drying, helping to reduce frizz and define curls and waves. Longer prongs allow you to style more hair with greater control – and reach deeper into the hair.

Gentle air attachment

The Gentle air attachment is engineered to diffuse the airflow and lower the temperature by up to 20°2. So it's kinder to sensitive scalps.

Smoothing nozzle

Dries hair with smooth, controlled airflow, helping to create a smooth, natural finish.
Key controls
3 precise speed settings

High – for fast drying and styling
Medium – for regular drying
Low – for diffusing

4 precise heat settings

100°C fast drying and styling
80°C regular drying
60°C cooler drying and diffusing
28°C constant cold

Cold shot

28°C cold shot, to set your hair after styling.
Intelligent heat control helps protect your shine
Unlike some others, the Dyson Supersonic™ hair dryer measures air temperature over 40 times a second, and regulates the heat. This prevents extreme heat damage, to help protect your hair's shine.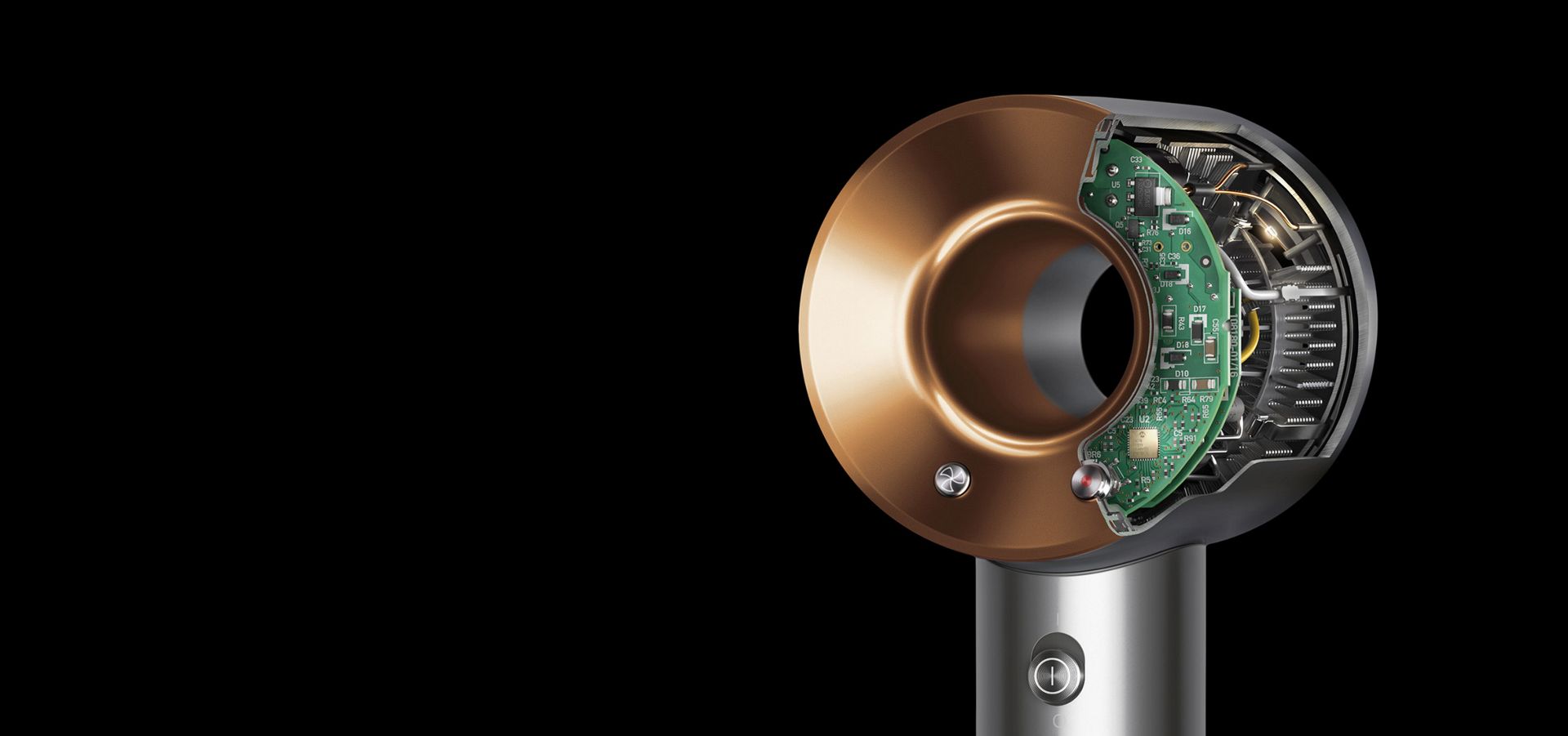 Care for special edition technology
The Vinca blue is a completely new finish for Dyson – flawlessly smooth, it was engineered specifically by CMF engineers. Sometimes, this porcelain texture may appear to change with touch, but it's easily refreshed with a slightly damp cloth after use. Please unplug the machine before cleaning.
Not everyone has the same hair type, or wants the same style. So we've designed different attachments to work for different hair types and create different styles. We've created two styling sets with attachments for specific hair types, and a set with attachments for multiple users or styles.
The long barrels are specially designed for hair that's longer than chest-length. For hair that's shorter than chest-length, we recommend using the shorter 30mm Airwrap™ barrels and 40mm Airwrap™ barrels. Both the long and shorter barrels can work on long hair, but you'll get the best results if you use the recommended barrel for your hair length.
The 2-in-1 Coanda smoothing dryer has two modes, Drying and Smoothing. The Drying mode can be used on any hair type to pre-dry hair or set finished styles. The Smoothing mode can be used to hide flyaways and works best on naturally straight or wavy hair, or straightened hair of any type.
Yes. For best results, start with freshly washed hair. All our brushes can be used on wet hair, but the barrels work best on damp hair. Use the 2-in-1 Coanda smoothing dryer in Drying mode to get hair to damp before styling with the barrels.
Yes, our re-engineered attachments are fully compatible with every Dyson Airwrap™ multi-styler.
Frequently asked questions
The Flyaway attachment should be used only on dry and straight hair or hair that's been straightened.
Hold the attachment at the top of your head until your hair is attracted to it. Then slowly run it along the length of your hair without pressing down on it.
Rotate attachment 45 degrees and slowly run it down the back of your head.
The attachment can get hot if you've been using it for a while. So we recommend holding the edges when twisting or removing it.
We recommend high speed setting. Adjust the temperature to suit your hair type: lower temperatures for finer hair and higher for thicker hair types.
Yes, you can. If you don't want flicks, avoid running the attachment over the ends of your hair or go over the ends on a lower temperature setting.
1 For use on dry and straight[ened] hair.
2 Based on 3rd party testing results compared to bare product. Air temperature is measured at 50mm from outlet according to GB/T23106-2008. Results may vary depending on usage and environmental conditions.
3 vs previous Styling concentrator.