Science is our pet subject
Dyson's microbiologists study how allergens and other microscopic particles spread from pet hair – helping to find better ways to capture and contain them.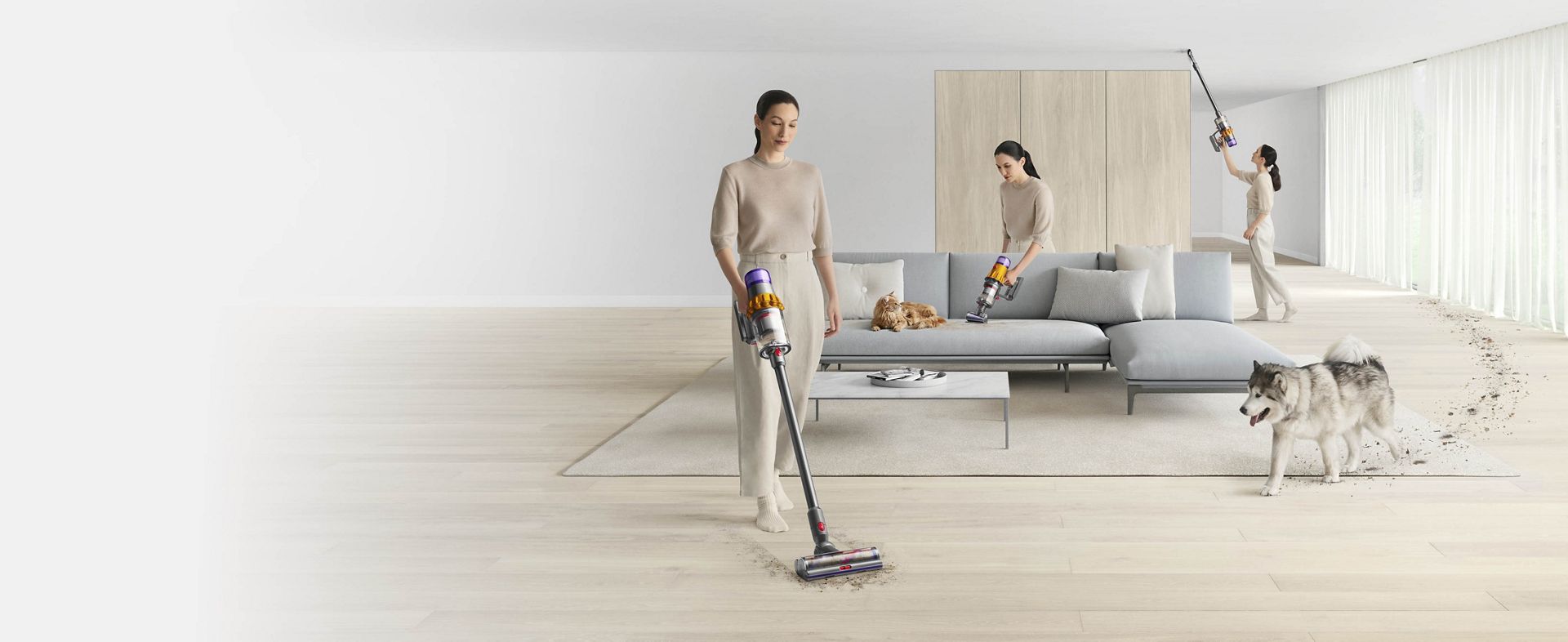 Dyson's latest de-tangling technology
Dyson-engineered Motorbar™ cleaner heads and accessories are designed to reach and deep clean wherever pets get. Helping to keep your home cleaner and more hygienic.

Dyson cordless stick vacuums
Dyson's most powerful, intelligent cordless vacuum2

Laser reveals microscopic dust1

Scientific proof of a deep clean3

Anti-tangle technology

Intelligently adapts suction power (in Auto mode)4

Run time countdown
Maintenance alerts

Laser reveals microscopic dust1

Counts and measures the size of dust particles3

Automatically adapts suction power3

Scientific proof of a deep clean3

Up to 60 minutes of fade-free suction power.4
Hair screw tool. Picks up long hair and pet hair. Fast.
Dyson's first omni-directional cordless vacuum

A brand new way to clean hard floors

Dyson's first omnidirectional Fluffy™ cleaner head9

Dyson's first most manoeuvrable vacuum. 10

Dyson technology, concentrated and rearranged in-line. Glides in multiple directions to clean effortlessly around obstacles.

A small yet powerful Dyson Hyperdymium™ motor spins at up to 105,000rpm to create powerful suction on hard floors.11
Advanced whole-machine filtration captures fine dust, and keeps it trapped in the bin.

Dyson's power in an ultra-lightweight cordless vacuum. Only 1.5kg.

Run time: Up to 20 minutes8

Weight: 1.5kg

Power button for comfortable, continuous cleaning.

Micro Fluffy™ cleaner head

3-in-1 cleaning

Filtration: Captures 99.99% of particles as small as 0.3 microns6

Dyson's lightweight and powerful cordless vacuum.

3 models available

No loss of suction5

30% lighter5

Powerful cleaning everywhere. Captures 99.99% of microscopic dust particles as small as 0.3 microns 2

Lightweight cordless cleaning. Same powerful pickup.

1 model is now available

40% smaller, 40% lighter Fluffy cleaner head.4

Up to 40 minutes' run time (in Powerful suction mode with non-motorised tool)

Hygienic bin emptying

Whole-machine filtration
1Suction tested to IEC 62885-2 CLs 5.8 and 5.9, at the cleaner head, compared to Dyson Cyclone V10™ vacuum, tested in Boost mode. Based on external and internal tests, actual performance may vary under specific conditions. 'Intelligence' is defined as Dynamic Load Sensor and LCD screen technology.
2Suction tested to IEC 62558-2 CL5.8 at the hose/wand, tested in boost mode. Tested against ASTM F1977-04 , tested in Boost mode.
3Tested against ASTM F1977-04, in Boost mode.