Support for your Dyson Digital Slim™ vacuum
Dyson Digital Slim™ vacuum

Here you can find helpful tips, maintenance advice, your user manual and more.
Register your machine
Register your machine for instant access to how-to guides, user manuals and more. You can also receive tailored machine support, direct to your inbox.
Getting started
You can quickly get up and running with our step-by-step guide.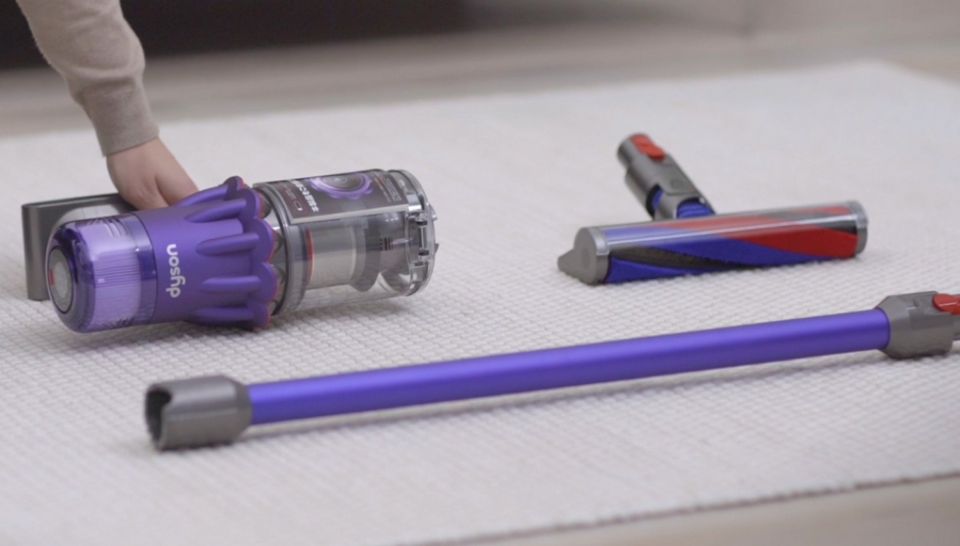 Fully charge before first use
For the best experience, we recommend fully charging your machine, and any additional batteries, as soon as you open the box and after every clean. This is because the battery and monitoring system's algorithm 'learns' over time, and fully charging your batteries helps it to more accurately calculate and display remaining run time.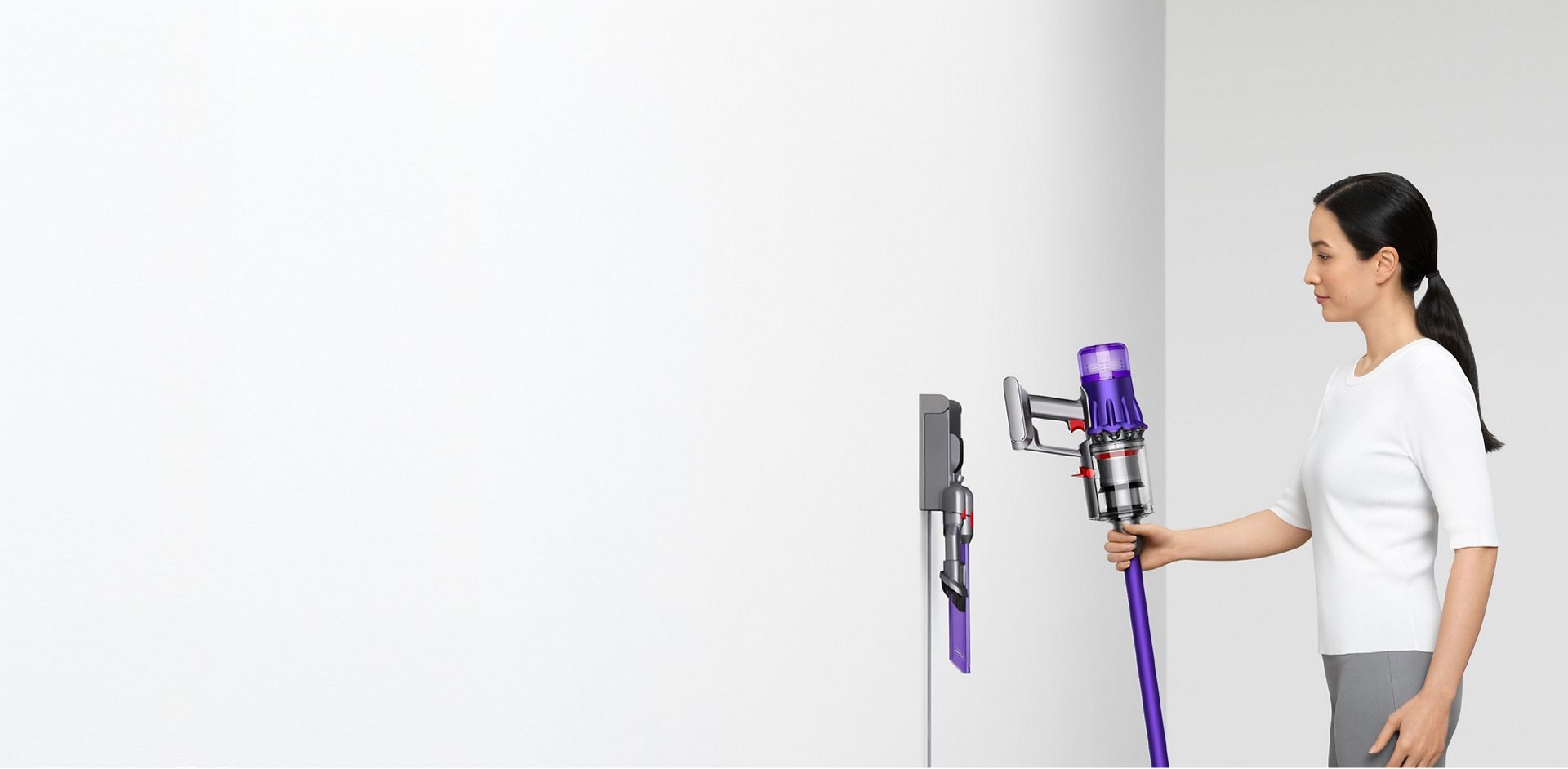 Using your machine
Understanding the three cleaning modes
Eco mode

The default mode for your machine. Up to 40 minutes of run time, for longer cleans all around your home.1

Med mode

The optimum balance of power and run time.

Boost mode

Designed for intensive spot cleaning, with up to five minutes of run time.
Choosing the right tool for the task
Slim FluffyTM cleaner head

Engineered for hard floors. Sucks up fine dust and large debris simultaneously. 40% lighter and smaller than the Fluffy™ cleaner head.

Mattress tool

Removes dirt and debris from mattresses and upholstery.

Mini motorised tool

The motorised brush bar tackles hair and dirt in tight spaces. Like sofas, chairs or your car.

Light-pipe crevice tool

Tackles dust in hard-to-reach places, such as gaps and corners. And shows you where you're cleaning, even in dark spaces.

Combination tool

Two tools in one, for versatile cleaning. Its stiff nylon bristles are tough enough to remove ground-in dirt.

Stubborn dirt brush

The stiff bristles remove mud and dried-in dirt.

Up-top adaptor

Twists and locks at different angles for effective cleaning in high-up areas of your home.

Reach-under tool

Extends, bends and twists to remove dust from awkward spaces.

Extension hose

Combines with other Dyson tools to provide a longer reach.

Wand storage clip

Handily stores the Combination and Crevice tools on the wand of your vacuum.
Using the LCD screen
The LCD screen shows current performance, including selected cleaning mode, remaining run time, filter maintenance reminders and blockage reports.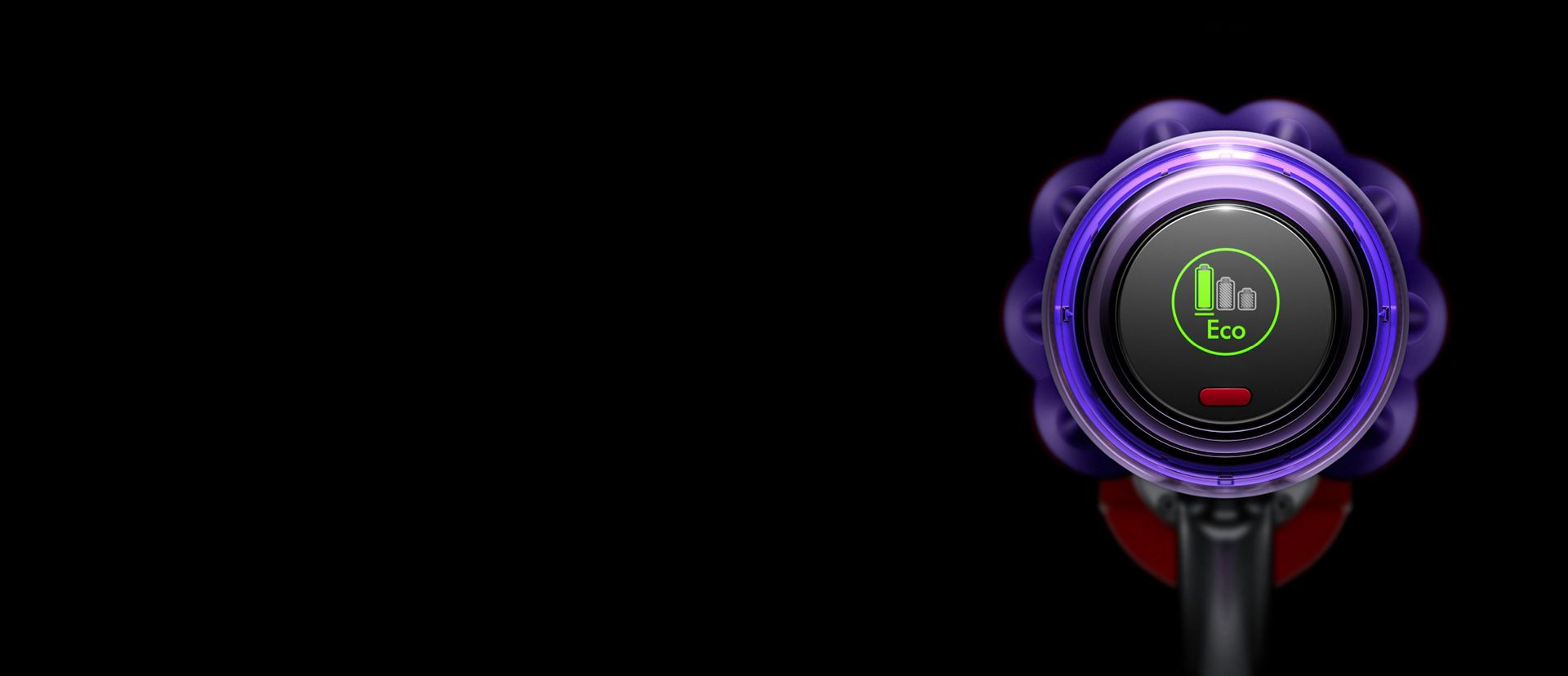 Charging your machine's battery
You can charge your battery whether it's connected to your machine or not. Simply use your dock, or the power cable that came in the box.

How to swap your click-in battery
To swap your battery, press the red battery release button and pull the battery away from the handle. Then replace it with an additional click-in battery. We recommend alternating and charging all click-in batteries regularly to prolong battery health.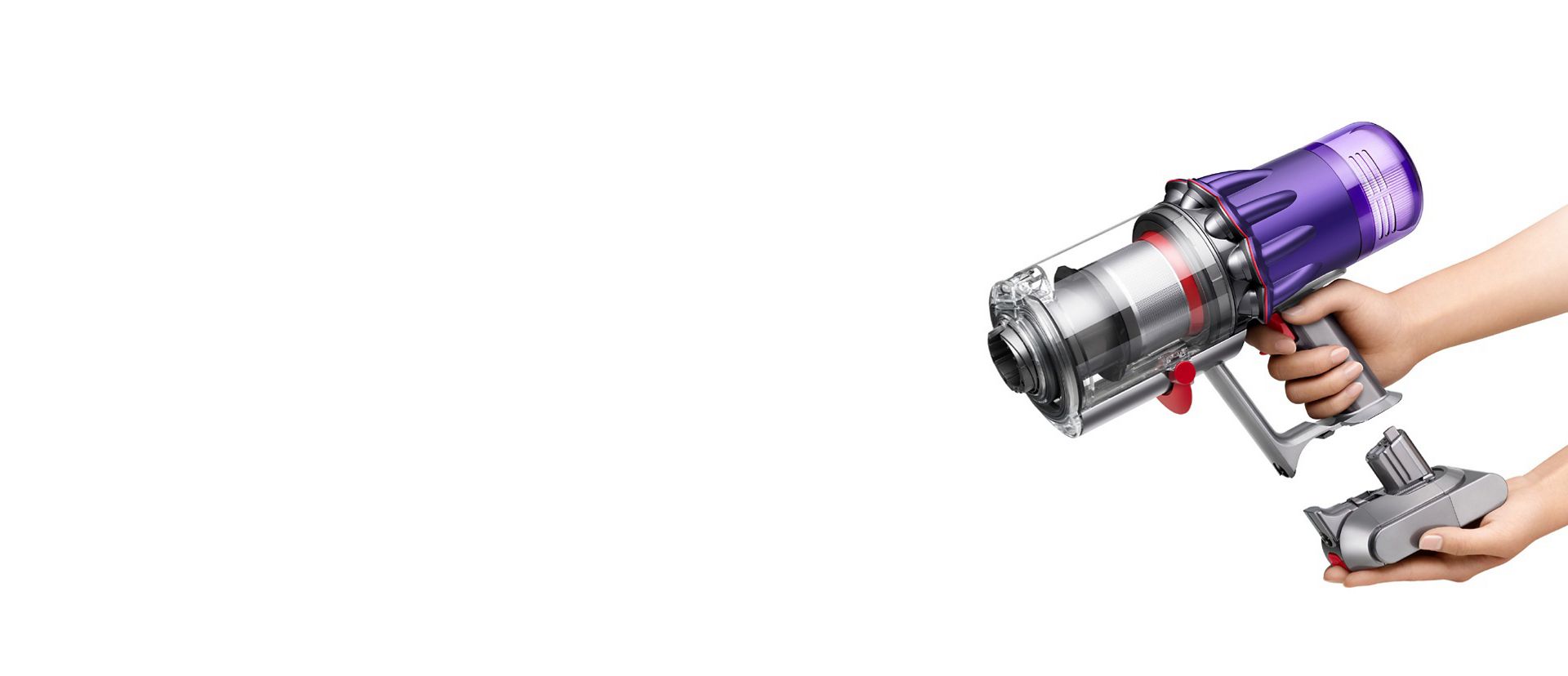 Maintaining your machine
From cleaning the bin to washing the filter, our quick guide will help you keep your machine working at its best.
Washing the filter

We recommend washing your filter once a month, for your vacuum to perform at its best. See how to do it quickly and easily.

Washing the Slim FluffyTM cleaner head

You can wash your Slim FluffyTM cleaner head's brush bars. See how to do it in our step-by-step guide.

Checking for blockages

Your machine will make a pulsing sound to let you know there's a blockage. Watch the video to see how to find blockages.

Cleaning the Light-pipe crevice tool

It's quick and easy to wash the Light-pipe crevice tool. Watch the video to see how.
Useful tips
Regularly wash the filter

It's important to wash the filter regularly, to maintain optimum performance. The screen will remind you when it's time to do this.

Don't overfill it

To maintain suction, keep an eye on the bin and empty it as soon as debris reaches the MAX marker.

Setting up your dock

You can use the dock to store your machine, so it's always to hand and ready to go. See how to set it up.
Frequently asked questions
The screen on your machine will remind you when it's time to clean your filter. This will usually be around once a month, but may be more frequent if you use your machine heavily. After cleaning your filter, always leave it to dry for at least 24 hours. Ensure it's completely dry before refitting on your machine. We strongly recommend following the cleaning instructions and cleaning by hand. The filter is not suitable for dishwasher use.
A full charge takes up to 3.5 hours.
We recommend fully charging a spare battery soon after purchase, and alternating batteries regularly to prolong battery health.
Your battery has been designed to be left on charge, so it's fine to leave it plugged in after charging.
We recommend fully charging your machine after every clean. This helps your vacuum's battery and monitoring system's algorithm to more accurately calculate and display remaining run time.
The LCD screen only uses up to 1.5 watts of power, which won't noticeably impact run time.
Your machine works independently and doesn't connect to the Dyson Link app.
To change the language on your screen, press the button and hold until the language list appears. Tap the button to scroll through the language list to your preferred language, then press and hold the button until the countdown ends. A green tick will appear to show your language selection is complete. To cancel your selection, release the button during the countdown.
1Up to 40 mins in Eco mode. Up to 5 minutes in Boost mode. Run time may vary depending on usage and floor type.
The Dyson guarantee
'How to' videos

To help you get the most from your machine. Quick and easy.

Helpful tips

Tailored reminders that will keep your machine working at its best, for longer.

Exclusive owner benefits

Priority access to previews of new Dyson technology, events and offers.

Expert advice. 6 days a week.

Freephone and live chat. Open 9:30am – 6:00pm Monday to Saturday, Close on Sunday and public holidays.

Free Dyson parts and labour

Replacement parts or repairs if something goes wrong during your guarantee period.
We don't stop caring about our machines once they're yours. Activating your guarantee allows us to give you a tailored, complementary, direct service for your machine. Even after your guarantee has ended, we'll still be on hand to help.