Dyson Corrale™ hair straightener
Protect your hair
Flexing plates. Fewer passes.
Half the damage.1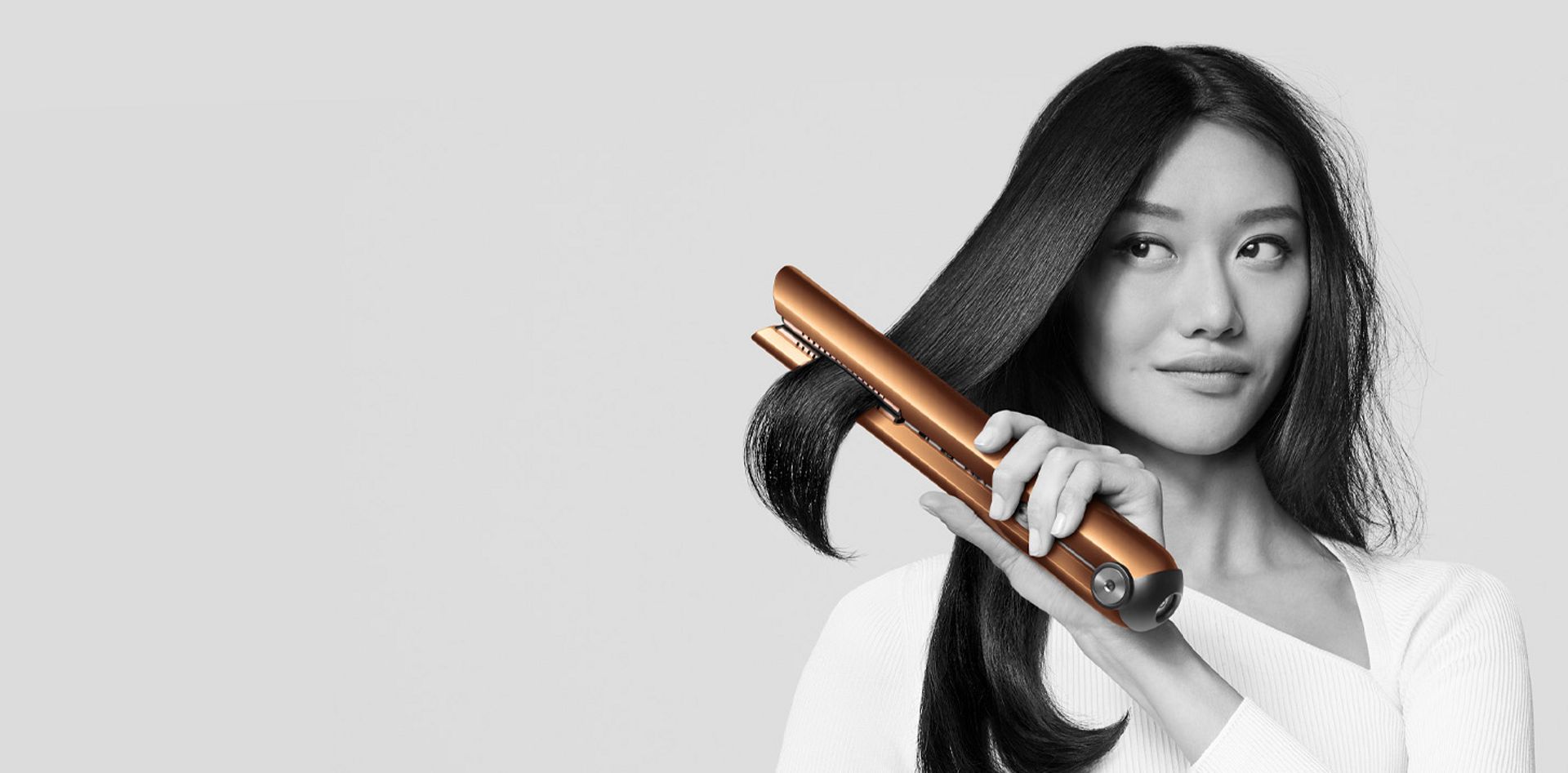 Special edition
Give the Dyson Corrale™ straightener in Blue Blush
With exclusive accessories. Only at Dyson.com.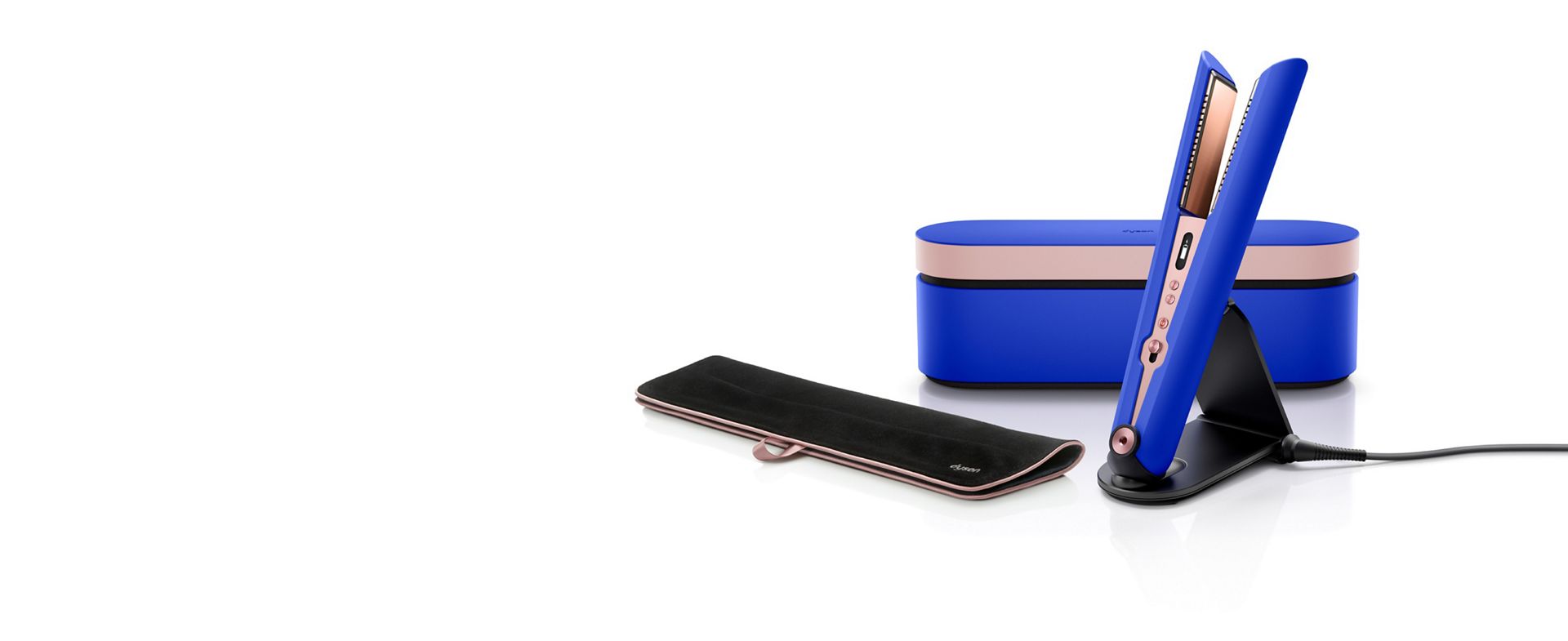 Pioneering Dyson technology
All the technology that goes into the Dyson Corrale™ straightener is there for a reason – high-quality performance. With an energy-dense battery for cordless straightening, it's engineered for optimal balance in the hand.
Precision styling with half the damage1

Manganese copper alloy plates, machined to the width of a human hair. The plates flex to gather hair neatly together, for enhanced styling with less heat.

Heating system with intelligent control

Flexible arrangement of electronics and thermal interfaces. Integrated sensor system regulates the temperature of the plates 100 times a second, so you never exceed your set temperature.

Cordless versatility, corded performance

Powerful 4-cell lithium-ion battery delivers the thermal performance of a corded straightener, cord-free. Constantly monitored and controlled by an intelligent battery management system to optimise heat output. 90% charged in just 40 minutes.
Take control with plates that flex
Our flexing plates shape around hair as you style, applying tension more evenly and giving you more control with every pass – so you can create the same styles, at lower temperatures.

Protect your hair
Turning down the heat on conventional solid plate straighteners might reduce damage, but it also affects styling. By shaping around hair as you style, our flexing plates achieve your looks with fewer passes, meaning less heat is used – and 50% less breakage caused.1 You'll see reduced frizz and fewer flyaways, too.2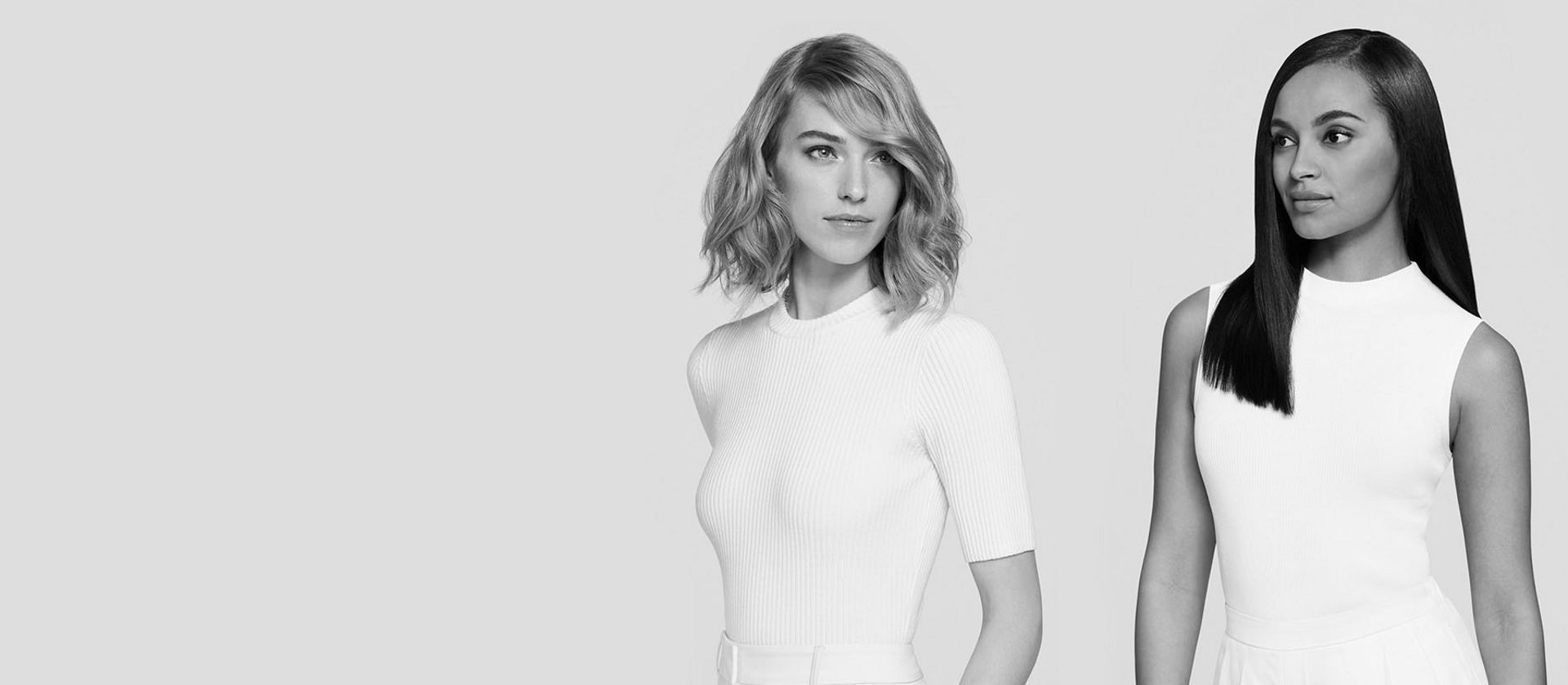 Getting the look you want
Your straightener is engineered to create a range of styles. From a straight finish to curls, our video styling guides show you how to get the look you want. You'll also find some helpful hints and tips on how to make the most of your Dyson Corrale™ straightener.
Tips for straightening different hair types

Achieving flat beach waves
Engineered to style on the go
The Dyson Corrale™ straightener delivers up to 30 minutes of cordless styling3 with the thermal performance of a corded straightener – meaning you can create your styles, whenever and wherever you are. Its innovative flight-ready tag and universal voltage make it the ideal travel companion.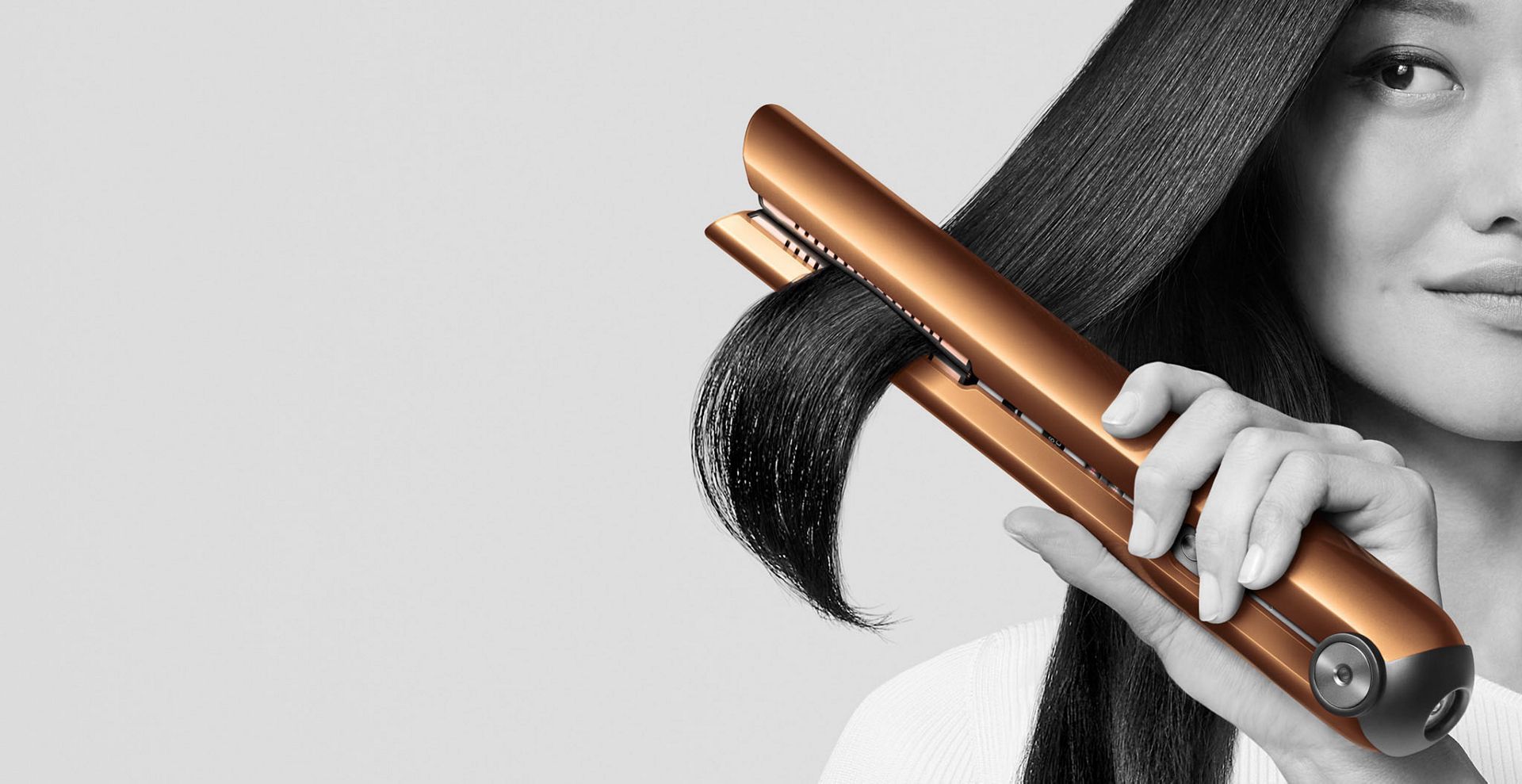 Colours to suit your style
Choose from a number of exclusive colours and co-ordinating accessories to build your own personal styling kit.

Special gift edition
Direct Exclusive: Dyson Detangling comb (worth: $200).
Dyson Corrale™ straightener in Blue Blush with Dyson-designed Blue Blush presentation case, foldable travel dok and rosé-edged travel pouch.
Enhanced styling.
Half the damage.2
Cord-free.
Engineered to create a range of styles.
Personalise your presentation case at Dyson Demo Store. Click here for details.
Cyber Monday Deal
Enhanced styling.
50% less damage.
Cord-free.
Engineered to create a range of styles.
Was

HK$3,980.00
HK$2,980.00
Save

HK$1,000.00
Frequently asked questions
Our manganese copper alloy plates create just the right amount of flex to shape around hair for extra control, while also generating the tension required for effective straightening. The result is enhanced styling with less heat – and therefore half the damage.1
Yes. The Dyson Corrale™ straightener comes with a heat-resistant travel pouch to store your straightener when it's in your bag. However, we recommend always allowing your straightener to cool before storing it in the pouch. A Safety lock also secures the plates for storage after use.
Yes. The Dyson Corrale™ straightener has a Flight-ready feature that disconnects the battery, designed to adhere to International Civil Aviation Organisation (ICAO) regulations. Please always check with your airline before you fly. It also has Universal Voltage, so you can use it while you're abroad. Please note: Stricter regulations in Japan mean you will not be able to fly in or out of any Japanese airports with your straightener.
If you haven't done it already, insert your Flight-ready tag into your straightener. This will activate your straightener's controls. You should also fully charge your straightener before using it. If you're still having trouble getting started, you can watch the video at the top of our owners page, contact a Dyson Expert using live chat or call 0800 298 0298.
From full charge, your battery provides up to 30 minutes cord-free styling.3 A full charge takes just 70 minutes. To maximize run time, place your straightener on the charging dock when not in use and in between styling sections. We recommend always beginning with 100% charge for maximum run time. You can find further tips to get the most from your straightener throughout your support page.
It's due to the advanced battery technology inside. Your straightener contains a powerful 4-cell lithium-ion battery that delivers the thermal performance of a corded straightener, cord-free. The battery placement has been engineered to provide balance in the hand, so even though there's a little extra weight, you have maximum control while you style.
Yes. If your straightener is left unattended with the power on for longer than five minutes, the heated flexing plates will automatically start to cool down. An alert will sound every 10 seconds and the Power button will flash. Pressing any button will re-activate your straightener. If left unattended for a further five minutes, your straightener will turn off completely.
We recommend regularly cleaning your straightener's flexing plates, to keep them working at their best. First, turn your straightener off and wait for the plates to cool. Then, gently rub the plates with a damp, lint-free cloth to remove any stubborn hair product residue.
Your straightener will make prompt sounds at times such as when it reaches your desired temperature and when it has low battery. You can mute the prompt sounds by pressing the Power and Temperature (–) buttons at the same time for more than five seconds. For your safety, you can't mute the sounds for Sleep mode or alerts. To turn the prompt sounds back on, press and hold the buttons again.
Yes. You can view your straightener's temperature in Centigrade or Fahrenheit. Simply press and hold the Power and Temperature (+) buttons for more than five seconds to switch between the two. When your preferred unit shows on the screen, release the buttons.
1 Thermal damage measured by hair strength, when creating an equivalent hair style. Tested on Corrale with flexing plates vs Corrale with solid plates.
3 When creating an equivalent straight hair style. Compared between flexing plates and solid plates of the same product of Dyson, based on internal test.
4 Direct image analysis vs untreated hair.
5 Internal test based on temperature of 10 passes, 2.5 seconds per pass. Tested in Singapore, 2019.
6 Exact run time may depend on your hair, styling habits and usage environment based on a fully charged machine. This is tested under the temperature of 210℃ which simulate the test result of actual use.
7 Understanding Hair Styler Consumer (Hong Kong). Dyson Personal Care Hair Styling Research. Conducted by Ipsos, in February 2020. N=606, female aged 20-50.
8 Consumer hairstyling marketing research conducted by Nielsen Hong Kong at May 2021, N=200, Female aged 20-54.