Exclusive pricing available for stylists and salon owners. Call us: (+852) 3180 3020 / 6874 1076
In the box
Dyson Supersonic™ professional hair dryer

Nickel and silver
3.3m cord


Professional concentrator

---


Gentle air attachment

---


Flyaway attachment

---


Smoothing nozzle

---


Diffuser

---


Spare filter

---
Our latest technology hides flyaways in a single pass. For a smooth, shiny finish.1
Our Flyaway attachment uses the Coanda effect to lift longer hairs to the surface, and hide flyaways. Use it to finish a style quickly, demo the magic of the Coanda effect, or show your clients how to maintain a salon finish at home.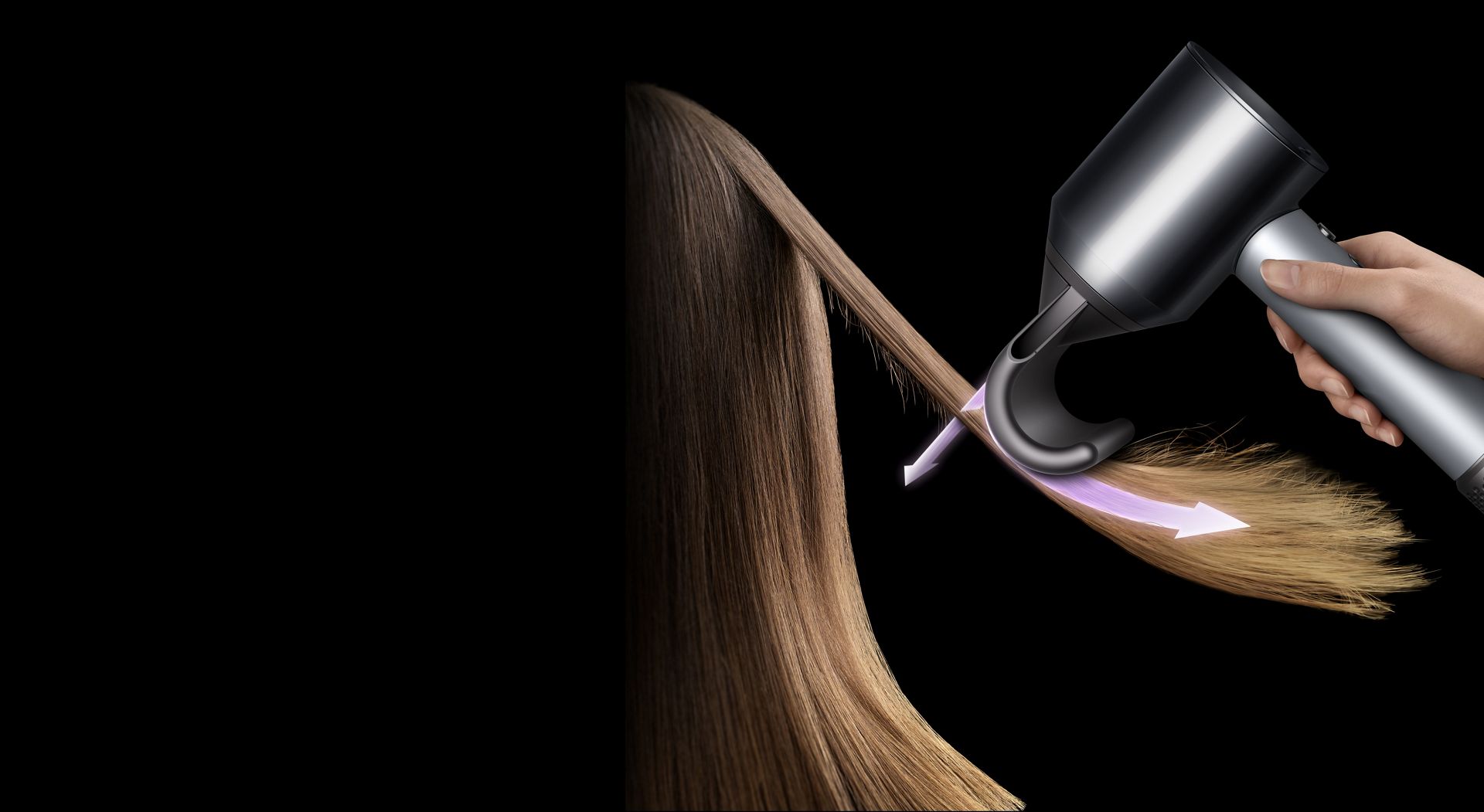 Designed for salons. Developed with stylists. Engineered by Dyson.
Built for the demands of a busy salon

The Dyson Supersonic™ Professional hair dryer has a tough, hardened nylon casing, reinforced with fibreglass so it's lightweight and strong, with a long life expectancy.

Engineered for all-day use

With the motor positioned in the handle, the hair dryer rests comfortably in the hand, with a balanced centre of gravity for all-day use.

Acoustically tuned for conversation

To reduce noise, Dyson engineers insulated the motor and acoustically tuned its pitch to one inaudible frequency, so it's less intrusive in salon environments.

New heavy duty filter. Plus a spare.

Our washable, heavy duty filter lasts longer between cleans2 to preserve performance. We also supply a spare, for quick swaps with no downtime.

Easier access to the Cold shot feature

After feedback from stylists, you can now set a style with a cold blast of air by holding either the Cold shot button, or the Temperature control button.

Longer cord for easier styling3

The Dyson Supersonic™ Professional hair dryer has a 3.3-metre power cord, so you can move freely around your station and style from any angle.
The science of styling
Damaged hair scatters light

Extreme temperatures can make small pores appear within the strands, which scatter light in all directions. This reduces reflected light, and decreases hair's natural shine.

Healthy hair reflects light

Dyson's Intelligent heat control constantly regulates temperature to help prevent extreme heat damage. Less damaged hair reflects more light in a single direction, so hair appears shiny.

High heat can fade colour

Whether your client's colour is natural or dyed, high heat can change the hair's proteins, causing colour to fade. The Gentle air attachment can help prevent this by maintaining a lower temperature.

Lower heat is kinder to sensitive scalps

Extreme heat can affect your client's scalp health. The Gentle air attachment is engineered to diffuse the airflow and lower the temperature by up to 20°C. So it's gentler on sensitive scalps.
Powerful. And fast drying
Fast airflow, for a short dry time, so you can efficiently style your clients' hair. The powerful Dyson digital motor V9 spins at up to 110,000rpm, propelling 13 litres of air to the amplifier every second.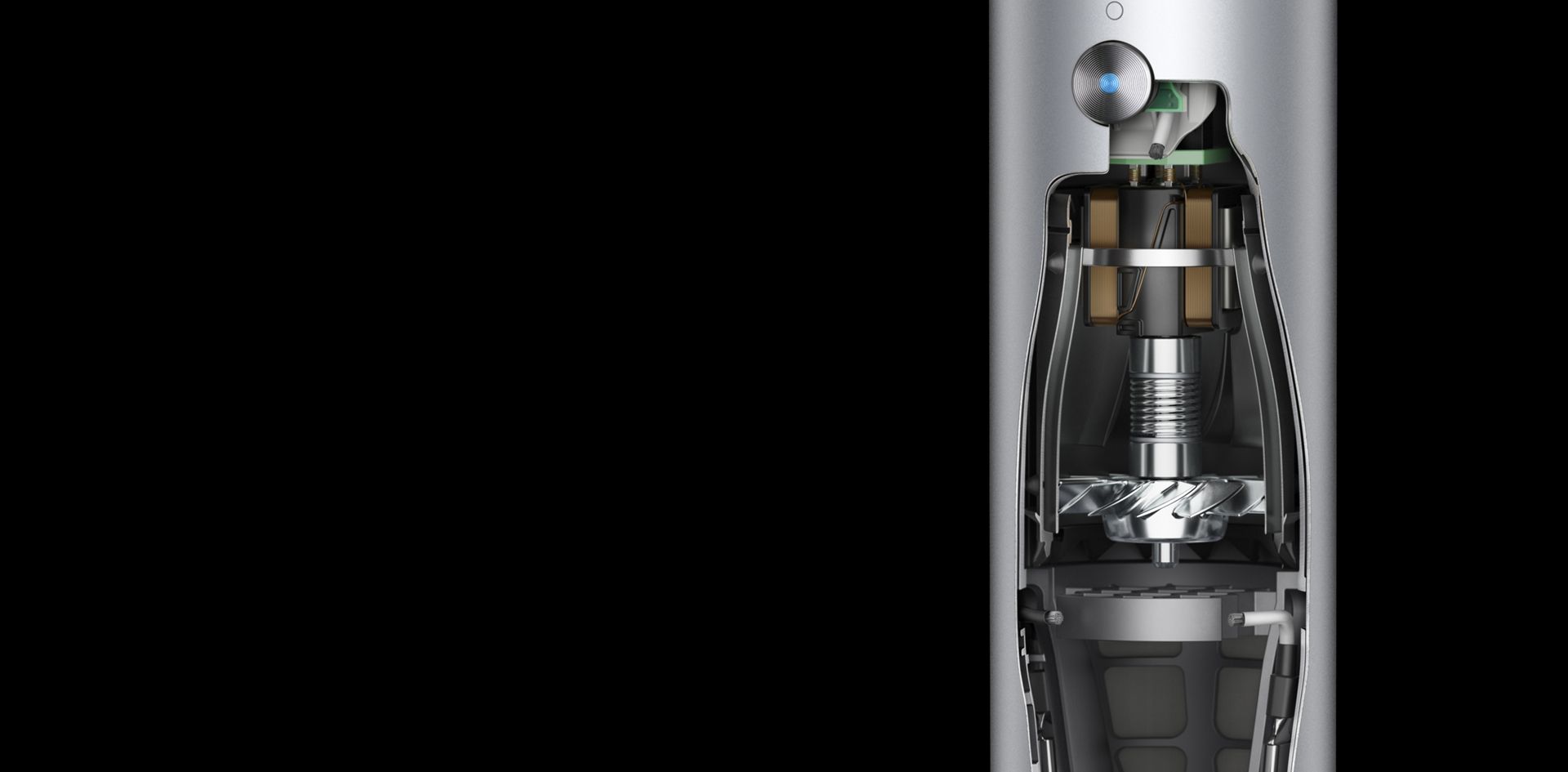 Air Multiplier™ technology
Intelligent heat control
Airflow temperature is measured and regulated more than 40 times a second, to prevent extreme heat damage and help protect your client's hair.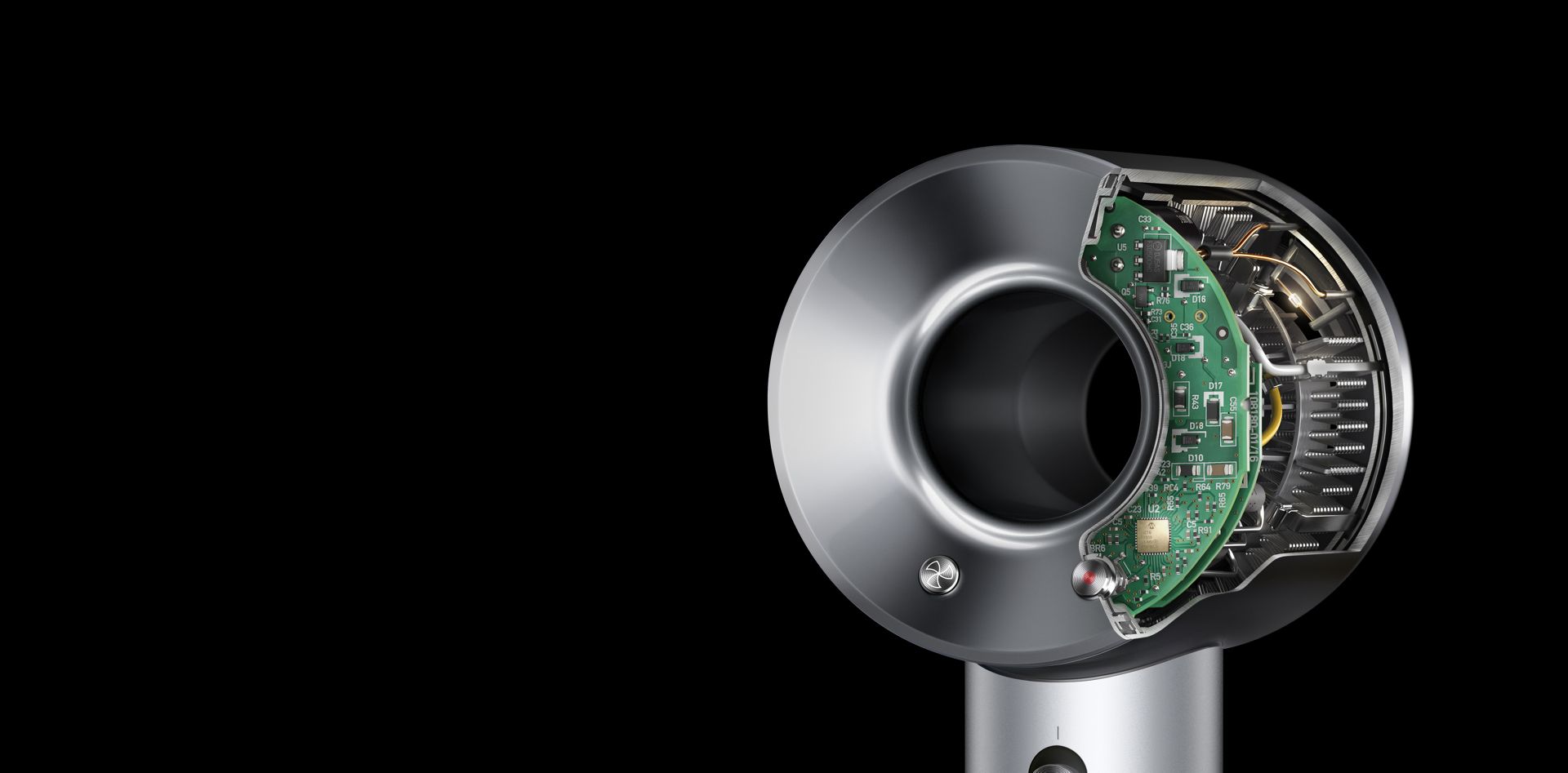 Magnetic styling attachments
For quick changes and a secure fit. With 360° rotation and Dyson Heat Shield technology to keep their surfaces cool.
Flyaway attachment

Hides flyaways under the main tress, while lifting longer, healthier hair to the surface. For a smooth, shiny finish,¹ with no extreme heat.

Professional concentrator

Creates a blade of high-velocity air that's perfect for precision styling. Wider and thinner design lets you style one section at a time, without disturbing the rest.

Diffuser

Reduces frizz and adds definition to curls and waves. Re-engineered to diffuse air more evenly, with longer prongs that reach deeper into the hair, so you can style more hair with greater control.

Smoothing nozzle

Helps create a smooth, natural finish by drying hair gently with controlled airflow. Quickly removes excess water from your client's hair before styling.

Gentle air attachment

Fast, yet gentle styling for sensitive scalps. Creates volume and texture closer to the roots using gentler, diffused airflow – while still drying fast.
Key controls
12 combinations to suit every client and style. High heat and speed settings dry hair faster, while the lower settings help hair retain a smooth, supple texture. Use the cold shot to set your client's hair after styling.
3 precise speed settings

High – fast drying and styling
Medium – regular drying
Low – diffusing

4 precise temperature settings

100°C fast drying and styling
80°C regular drying
60°C cooler drying and diffusing
28°C constant cold

Cold shot button

28°C cold shot, to set your client's hair after styling with a cold blast of air. If you find it easier, you can also activate the cold shot by holding the Temperature control button.
Specifications
Weight
0.68kg

---

Width
78mm

---

Negative ions
Help reduce static

---
Dyson accessories for professionals

Discover Dyson display stands, wall cradles, docks, cases, accessories, attachments, and more.

Dyson hair care for salons and stylists

Hair care re-engineered for stylists. For fast, effective styling with less reliance on heat.
Frequently asked questions
To maintain optimum performance, your Dyson Supersonic™ professional hair dryer needs regular care and maintenance. We recommend cleaning the filter once a month, or when the three white LED lights flash continuously.
Your Dyson Supersonic™ hair dryer is guaranteed for two years.
Yes. That's because it doesn't rely on heat alone to dry hair. A high-speed, high pressure airflow can achieve fast drying with less reliance on heat.
Your hair dryer has been precisely engineered for fast drying and styling at the voltage of the country in which it was purchased. This allows it to perform optimally. As voltage varies from country to country, please follow the guidance on usage in the guarantee section of your user manual.
Yes, the new attachments are fully compatible with older generations of Dyson Supersonic™ professional hair dryers.
In salon environments filters can clog more quickly with hairspray, so it's best to use a Dyson Supersonic™ professional hair dryer where the heavy-duty filter has been designed to meet the needs of a busy salon. The consumer warranty doesn't cover use in commercial environments, or if it's used for more than two hours a day.
1 For use on dry or straight(ened) hair. 2 Vs. previous Dyson Supersonic™ professional hair dryer filter. We recommend cleaning once a month, or when the three white LEDs flash. 3 Vs. Dyson Supersonic™ hair dryer.