Five-layer whole-machine filtration
Captures dust and seals in 99.99% of microscopic particles as small as 0.3 microns – expelling clean air for a healthy home.¹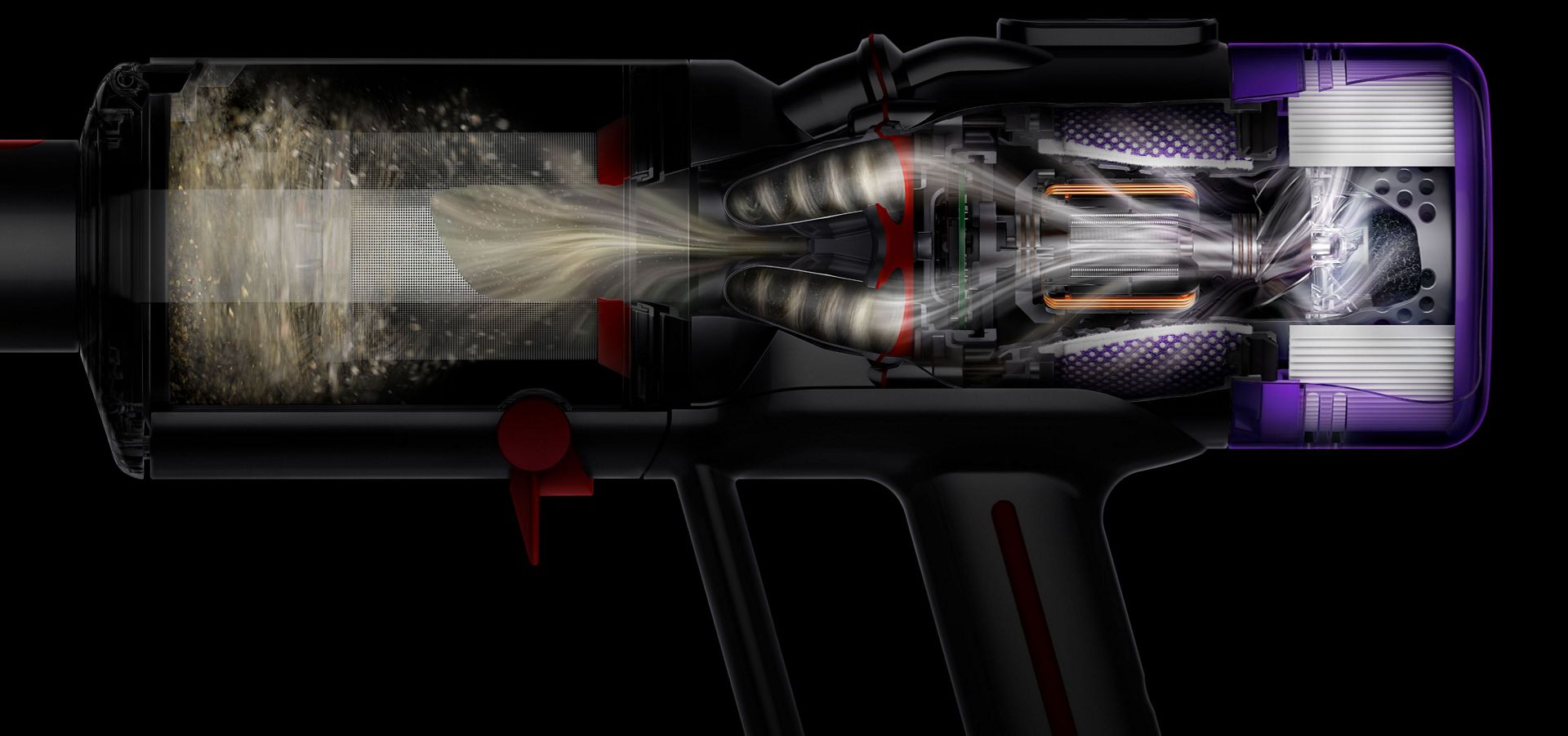 Bin cyclone
Initial cyclonic separation removes the largest particles.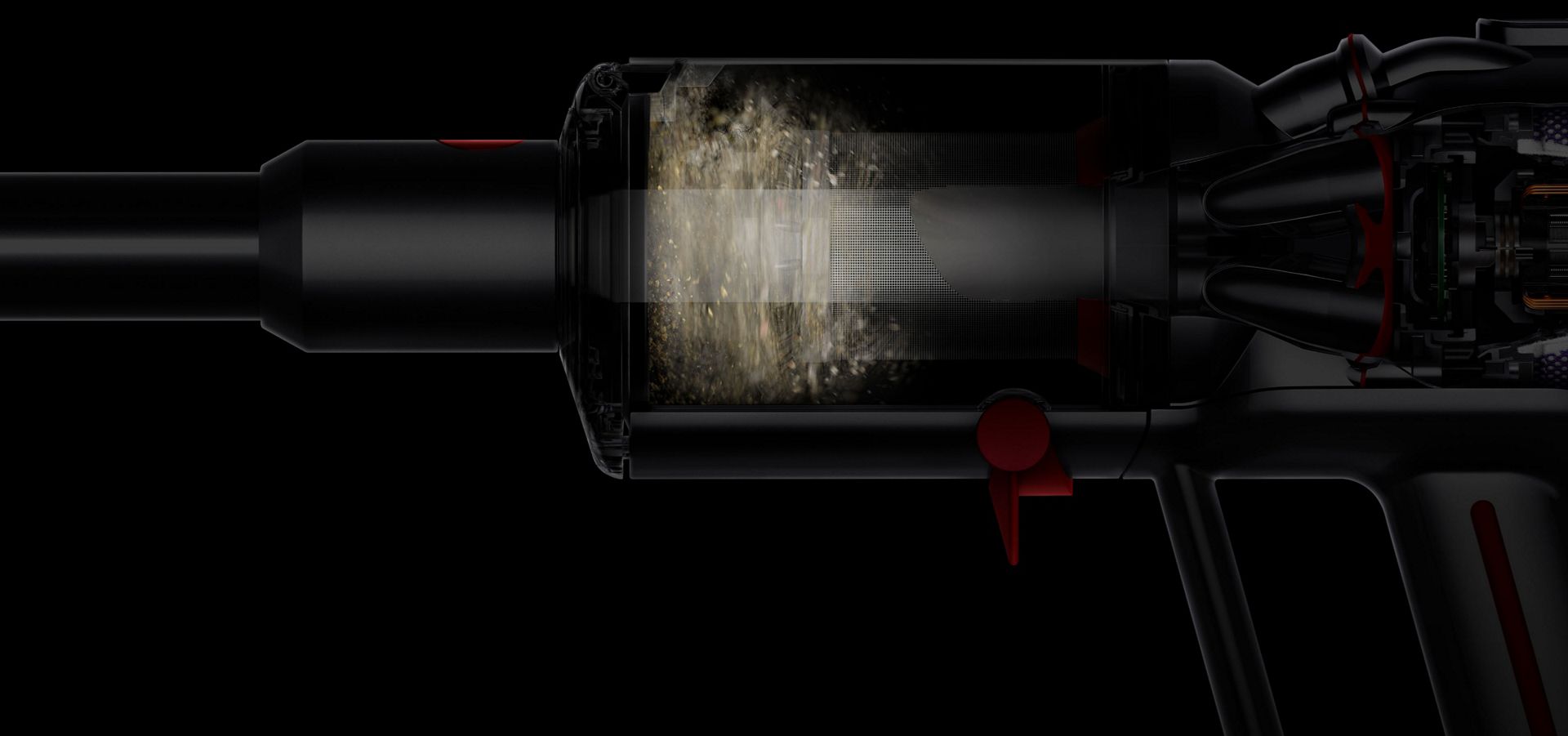 Metal mesh filter
Advanced chemical etching ensures the mesh sieves anything over 400 microns.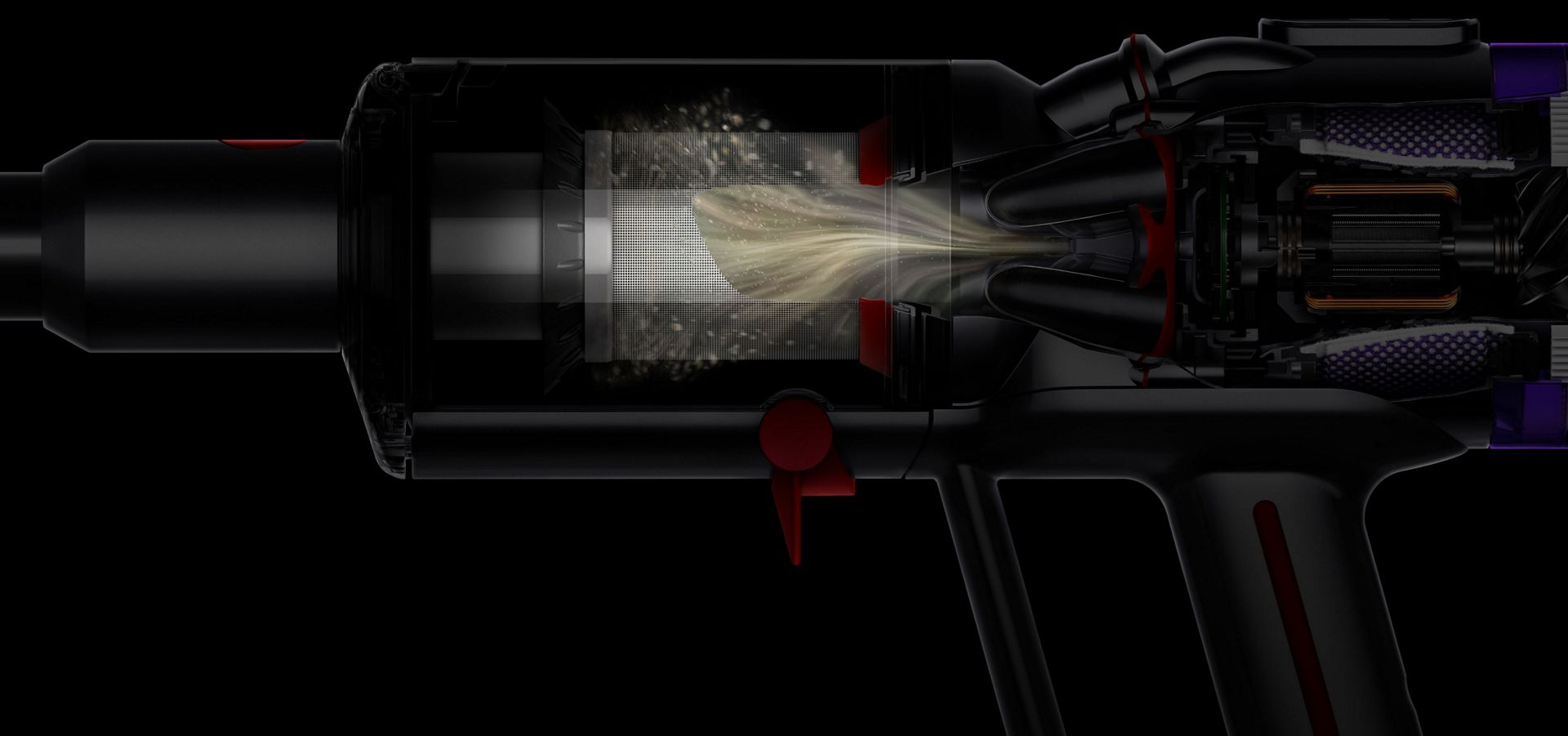 Powerful cyclones
Generate strong centrifugal forces to capture fine dust with no loss of suction.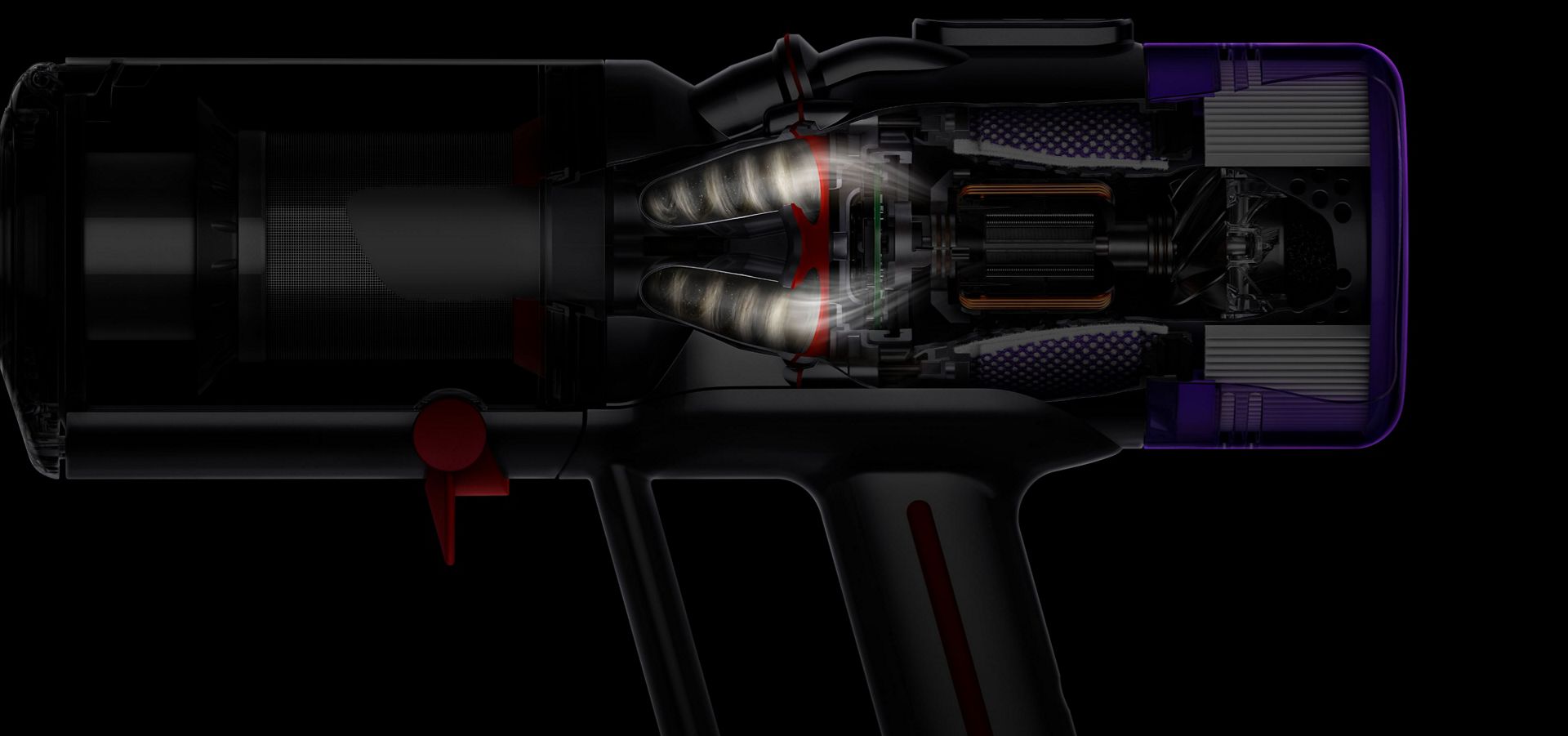 Pre-motor filtration
Electrostatically charged Technostat® filter attracts smaller particles that would otherwise pass through.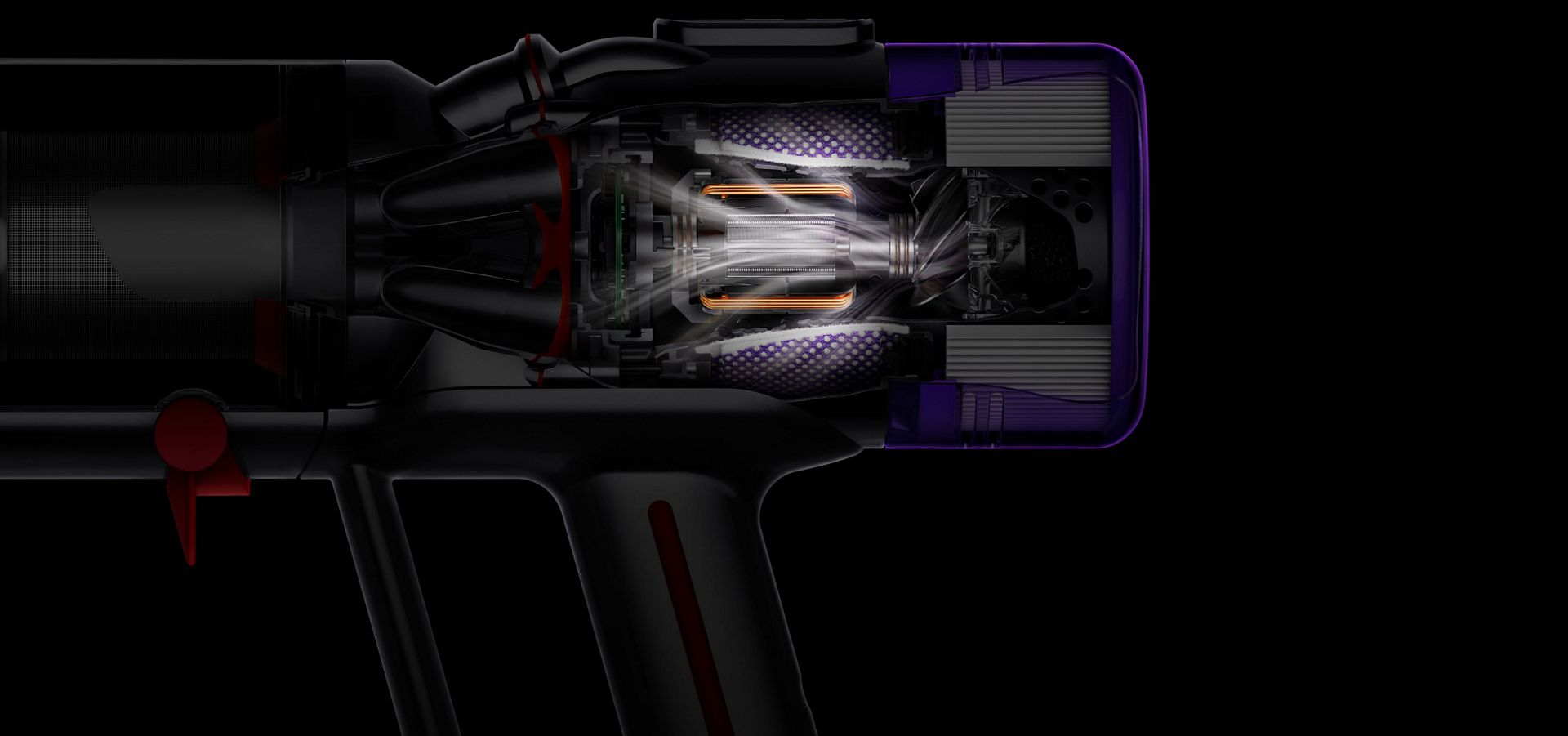 Post-motor filtration
Traps particles down to 0.3 microns, so you don't breathe them in.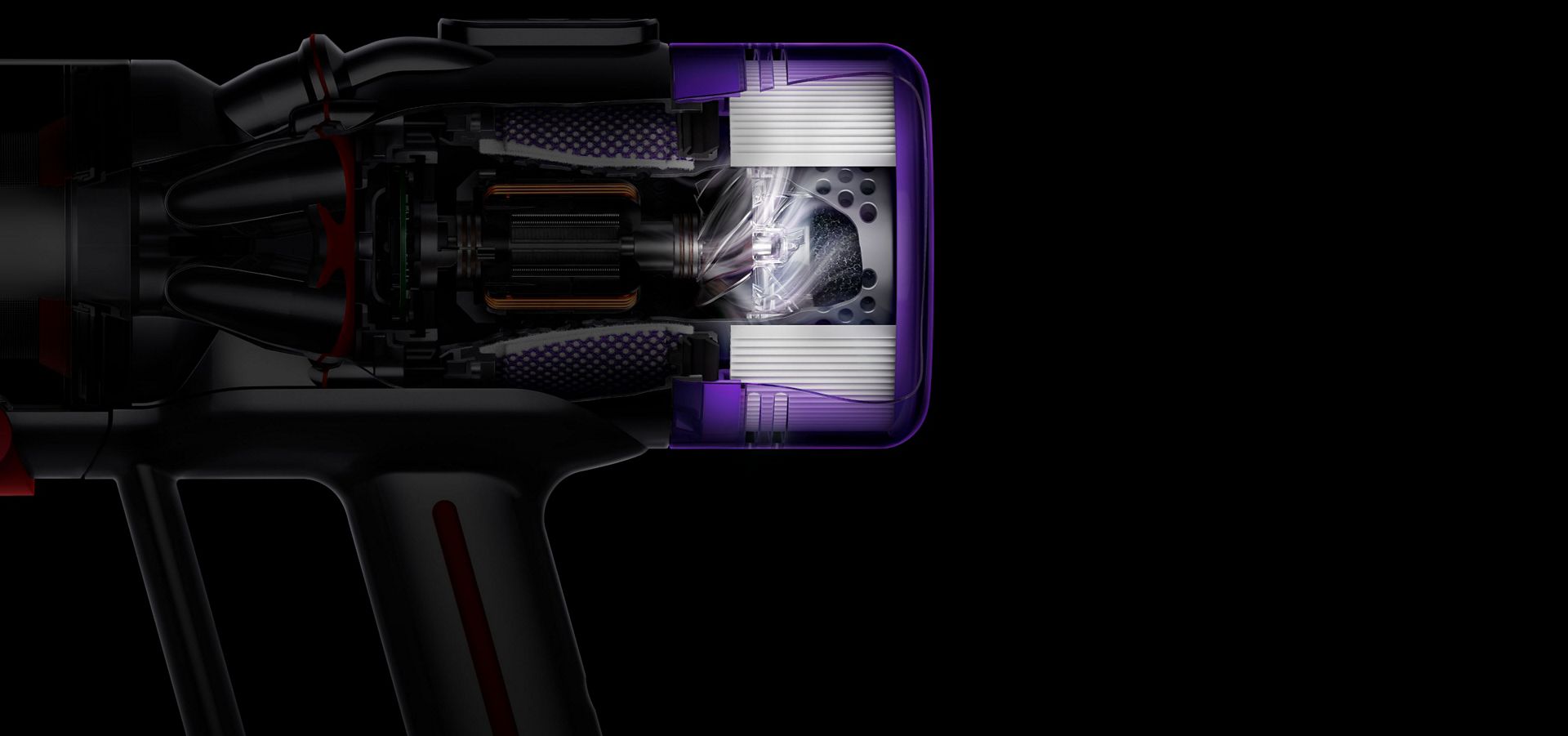 Radial Root Cyclone™ technology
Eight cyclones generate forces of up to 96,000g⁴ to fling dust into the bin rather than the filter, so there's no loss of suction.²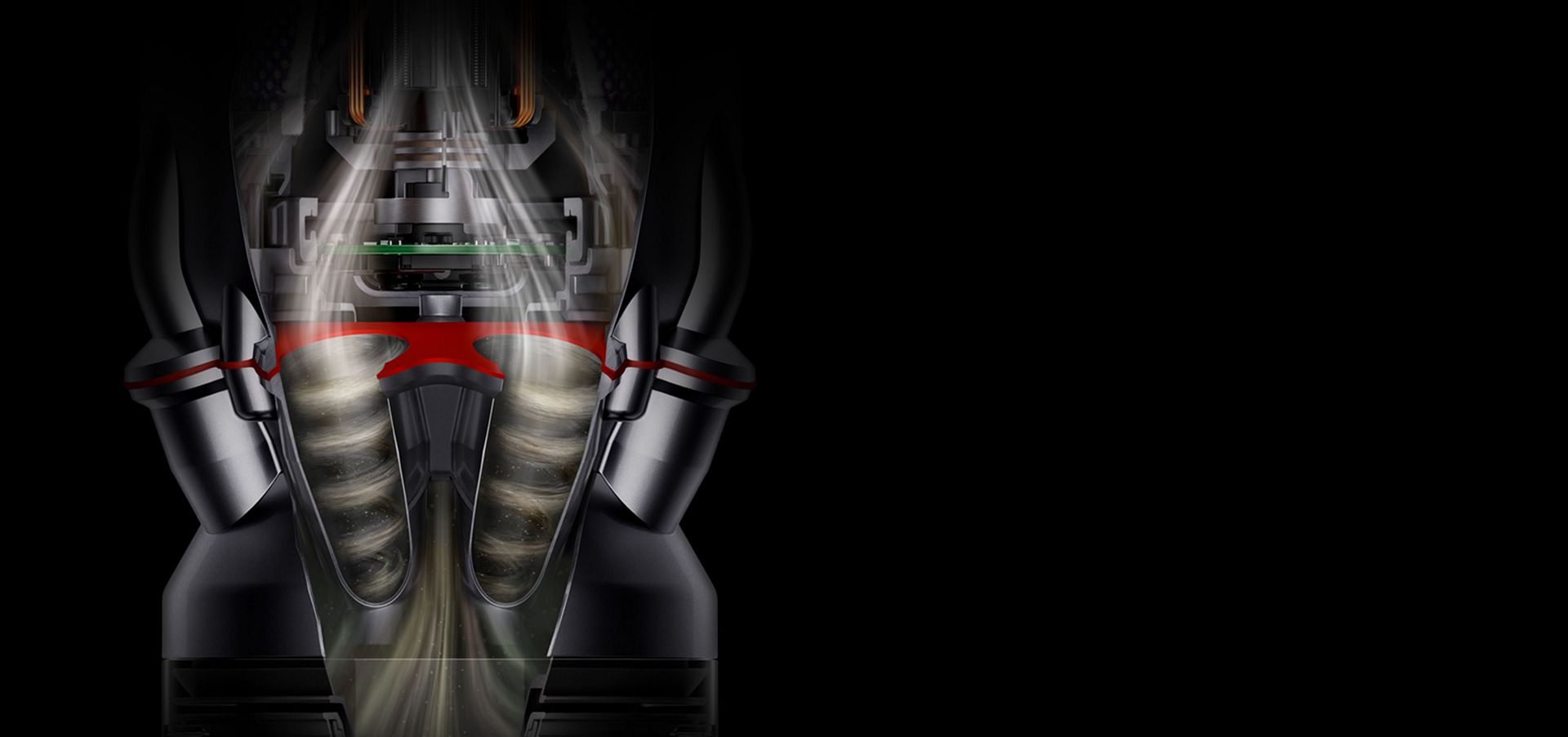 Powerful Dyson Hyperdymium™ motor
Spins up to 105,000rpm⁵ to suck up microscopic particles and larger debris.⁶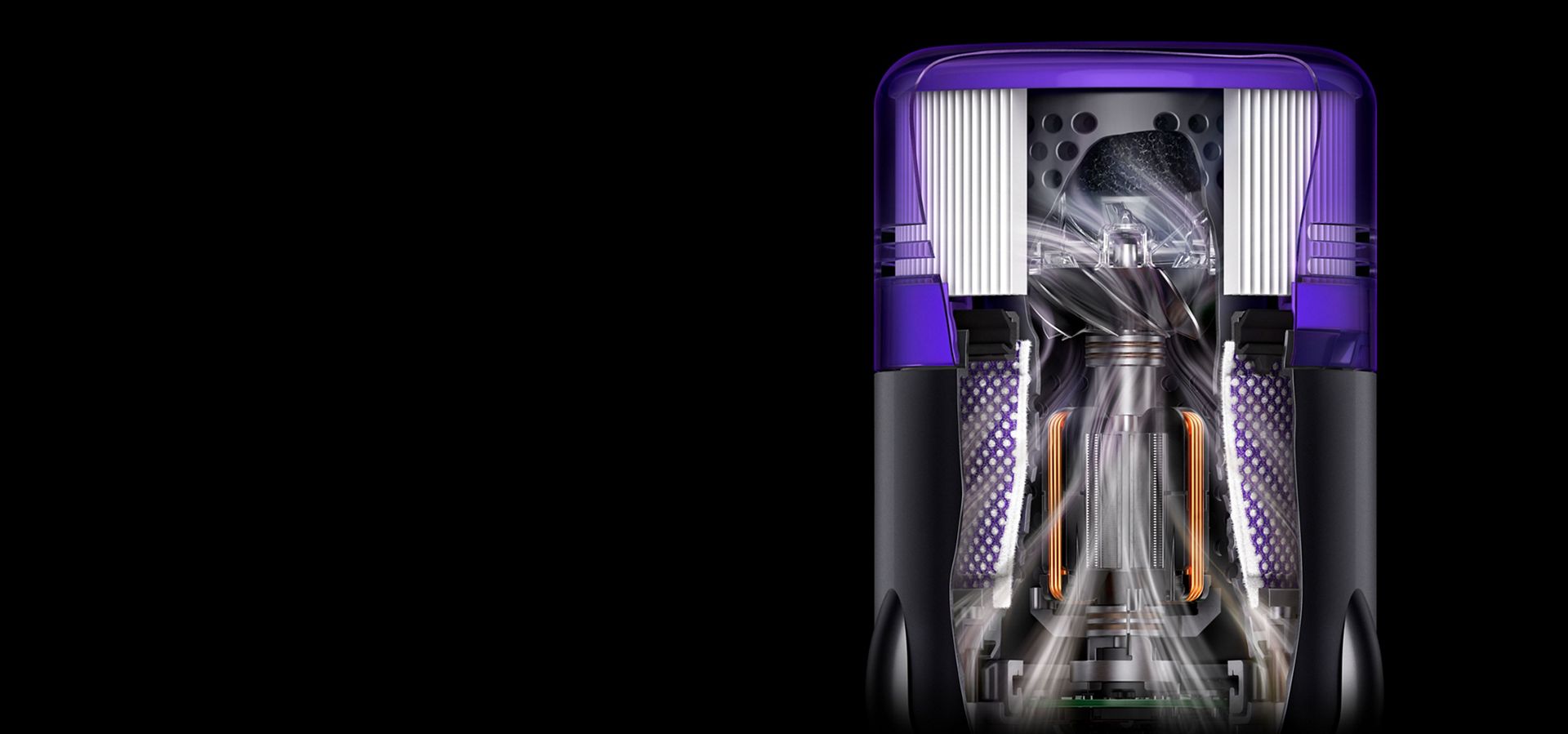 Re-engineered Micro Fluffy™ cleaner head
Dyson's smallest, lightest Fluffy™ cleaner head yet. Soft woven nylon and anti-static carbon fibre filaments remove fine dust from hard floors.⁶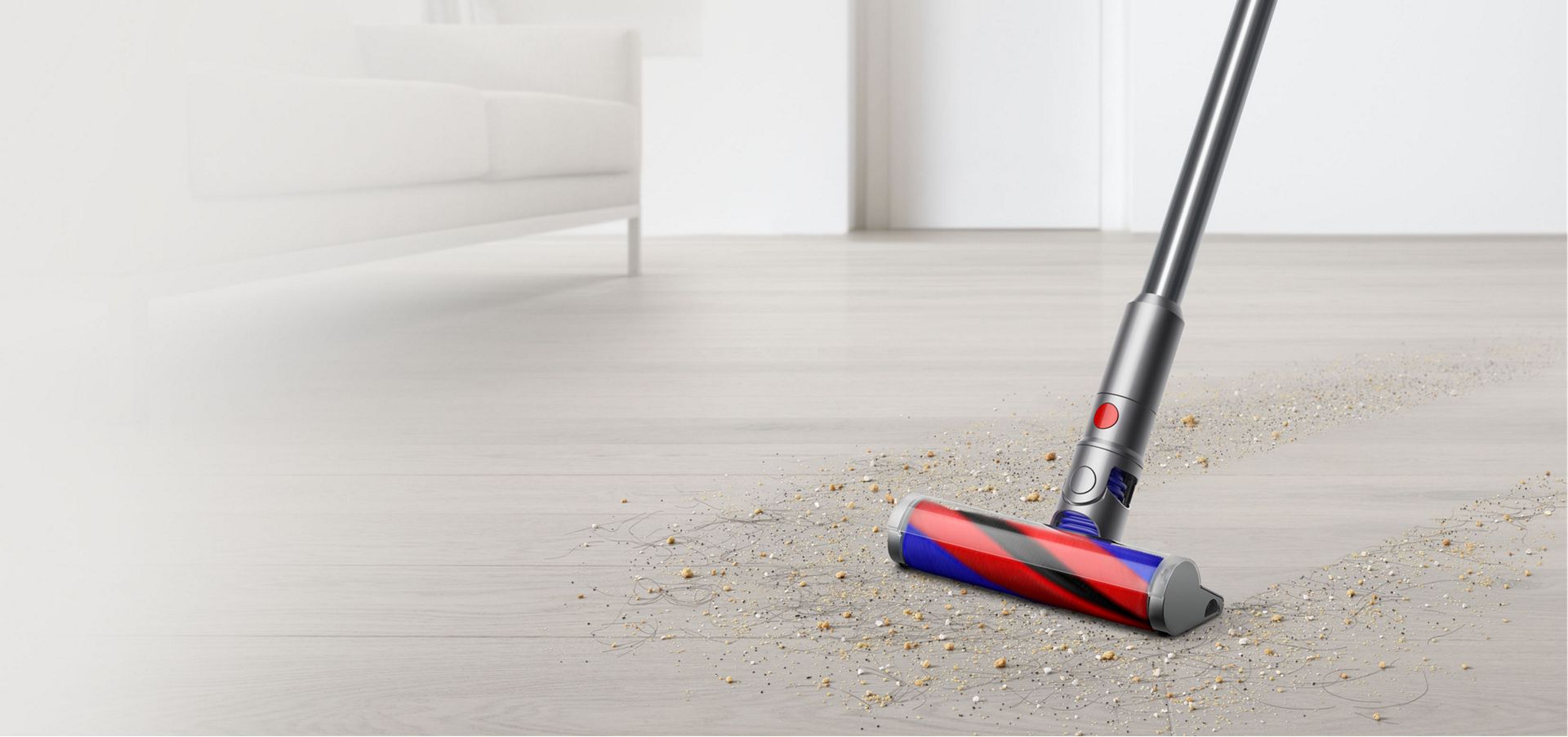 Picks up microscopic dust

Anti-static black carbon fibre filaments pick up fine particles such as dust and allergens from hard floors and crevices.

Reaches further

45% smaller than a standard Fluffy™ cleaner head³ to clean into tight spaces as small as 20.7cm – with a low profile to reach under furniture.

Edge-to-edge cleaning⁷

The direct-drive motor is integrated into the brush bar for powerful, uninterrupted edge-to-edge cleaning.
Dyson vacuum technology achieves
United States Ergonomics certification
More ergonomic. 21% less effort. 11
Ergonomically designed to require 15% less effort to clean on hard floors.12

3-in-1 cleaner
Transforms from a floor vacuum to a handheld in a click. Dyson-engineered accessories convert the Dyson Micro 1.5kg™ vacuum to a handy cleaner for hard-to-reach areas all around your home.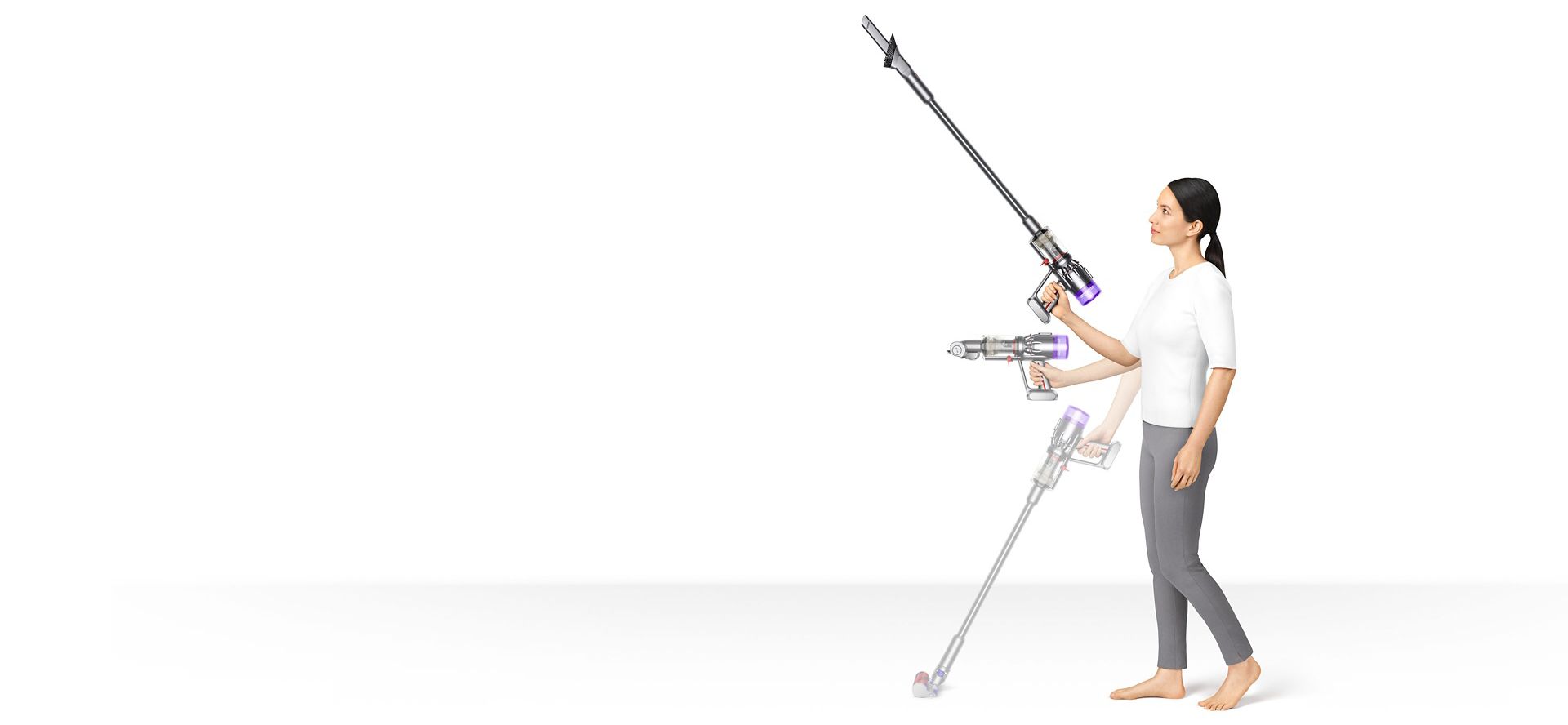 Clean mattresses, upholstery and stairs

Mini motorised tool. Motor-driven brush bar, concentrated in a smaller head to remove fine dust.

Switch between cleaning and dusting

Combi crevice tool. Two tools in one – nozzle and brush, for precise cleaning in hard-to-reach narrow spaces.

Dirt has nowhere to hide

The Light pipe crevice tool10 has LED lights to show you where you're cleaning, even in dark spaces.
No-touch bin emptying
Hygienic ejection mechanism drives dust and debris deep into your bin, in one action. Engineered for a healthy home.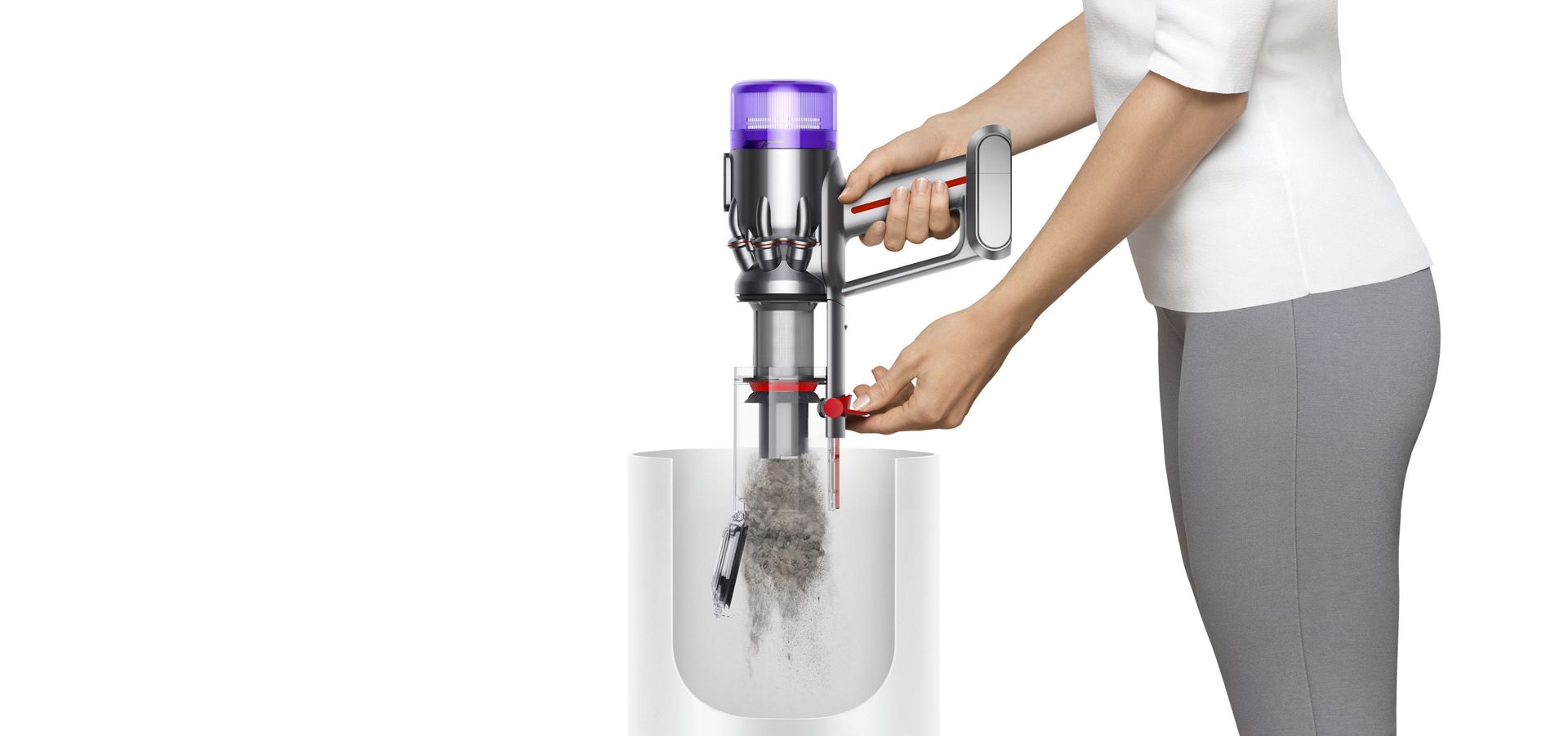 Additional features
Wall dock

The Dyson Micro 1.5kg™ vacuum drops into the wall-mounted charging dock, ready for your next clean.

Clean quickly. Clean properly.

Four-cell energy-dense lithium-ion battery delivers up to 20 minutes of fade-free handheld cleaning.8 Ideal for speedy spill clearance and quick cleans.
New
1.5kg lightweight format.1
Traps 99.99% of microscopic particles.1
No loss of suction.2
Micro Fluffy™ cleaner head




Get more from your Dyson with the MyDyson™ app

Get more from your Dyson with the MyDyson™ app
Expert guides and exclusive content

From quick-start and how-to guides to using your cleaner heads and attachments. All tailored to you and your machines.

Machine enhancements and upgrades

Reach further and clean deeper with specialist tools. And see how to upgrade to the latest software.

Tailored 24/7 support

Maintenance advice and troubleshooting, when you need it. You can also activate tailored machine support, direct to your inbox.